NYJL Forum for Nonprofits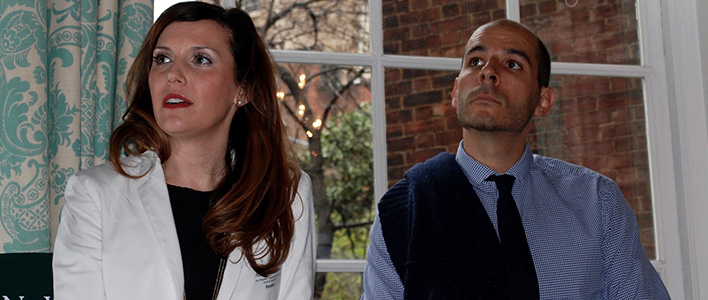 NYJL Forum for Nonprofits
Wednesday, April 25, 2018 • 8:30 a.m.-4:00 p.m.
NYJL Headquarters, 130 East 80th Street, New York, NY 10075

The New York Junior League hosts an annual conference designed for small to medium nonprofit organizations in the New York City area dedicated to addressing key issues facing both nonprofits and the communities they serve. Now in its 16th year, the Forum for Nonprofits conference features expert-led workshops and panel discussions. Past topics have included volunteer retention, technology trends, best practices for recruitment and training, and utilizing social media in a nonprofit environment.
Registration | Registration Scholarship | Schedule | Speakers | 2018 Focus | Terms and Policies
---
Registration
---
Registration Scholarship
CCS Registration Scholarship Learn more

The New York Junior League is committed to serving our Community Partners with direct client service and organizational capacity building. We understand that our partners range from large to small nonprofits with limited resources, and we do our best to ensure that our opportunities are accessible to you all. Thanks to our sponsor CCS Fundraising, each organization may apply for one of seven registration scholarships to attend the forum at no cost.

Applications are now closed.
---
Schedule
---
Speakers
---
2018 Focus
It Starts with I

Impact, innovation, inclusion—these three key ideas all start with the individuals who work for, volunteer with, and support the nonprofit organization. Join us for presentations, panel forums, working sessions, and small interactive workshops that will educate and inspire you.

IMPACT: Real Stories, Real People Can your volunteers, staff, donors, and board members share your nonprofit's impact story to others in a compelling way? This session discusses the art of storytelling for nonprofits to build a stronger community, increase fundraising effectiveness, and turn your donors into champions for your cause. Learn how to incorporate data into your narrative and apply these lessons to effectively share your story with stakeholders.
INNOVATION: Rock Your Social Media Presence Learn how to build effective social media pages for your nonprofit. Work with seasoned social media experts to develop engaging content, leverage your network to make valuable connections, and influence your community to volunteer or donate. Learn how to use social media analytics to understand trends that may apply to your cause.
INCLUSION: Build Inclusion and Diversity into Your Nonprofit's Mission and Board of Directors This workshop explores ways to build the values of diversity, equity, and inclusion into your nonprofit's mission and operations. Explore the ways diversity and inclusion are critical to high performing boards and how your board can fulfill diversity and inclusion goals.
Bonus! INDIVIDUAL: I (You!) Dive deep into your specific questions and hear expert opinions targeted to your unique circumstances.
---
Terms and Policies
Substitutions

In the event you are unable to attend the forum and have already purchased a ticket, you may transfer your ticket. To do so, e-mail nyjlforum@nyjl.org with the following information to confirm the change:

• Original registrant's full name
• Substitute registrant's full name
• Mailing address (if different than original participant)
• Title and Company
• Phone
• E-mail

Cancellations

No refunds will be made for cancellations after April 18, 2018. All cancellation requests are subject to a $10 processing fee. Cancellations prior to this date must be in writing.

Photo and Video Release

Please note that this is a public event and that by attending you consent to photography, audio recording, video recording and its/their release, publication, exhibition or reproduction to be used in any format including promotional purposes by NYJL. You waive the right to review this content prior to publication; release NYJL from any liability connected with the taking, recording, digitizing or publication of such content; and waive all rights to any claims for payment or royalties in connection with the use of the content.

Questions? Contact us!