Life Through Another Lens: Charlene Chuang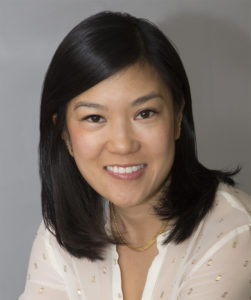 "Life Through Another Lens" features stories of our members, in their own words, to shed light on how we experience the world and the NYJL through different lenses informed by our individual cultural identities. On the occasion of Asian-American and Pacific Islander Heritage Month, Charlene Chuang shares her perspective.
What prompted you to become a member of the New York Junior League and how long have you been a member?
I joined the New York Junior League in 2006, having just moved to New York City after college. I wanted to better know my new home and my new neighbors and be an impactful citizen of the City.
How do you identify?
I identify as a second-generation Taiwanese American woman. 
Share a specific story or anecdote related to your experience in the NYJL, and how your identity informed that experience.
While the diversity of our membership is growing, the Junior League membership remains predominantly white, cisgender, heterosexual, Christian, and of high socioeconomic class. This creates a dominant culture that excludes folx at the margins, shapes how we partner with organizations and work with clients throughout the City, and has influenced my experience in the NYJL.
The relational aspect among Junior League women is both beautiful and foundational in training and empowering women leaders. I won't share the details of specific experiences that have challenged me personally, but I can share that NYJL women of color experience daily microaggressions from other Junior League members as well as racial bias in our Junior League institutional systems—processes, traditions, social norms, and unspoken agreements. While we assume best intentions, the very real impact is that no matter how adept a woman of color is at navigating the Junior League, our NYJL culture prevents us from fully carrying out our mission and our commitment to welcoming all women who believe in that mission.
During my term as Executive Vice President (2017–2019) and subsequent service on board work groups, my identity informed and strengthened my work and priorities in breaking down barriers, increasing accessibility, and removing bias across our systems and structures. I placed an emphasis on training our leaders and members to unlearn and learn anew how we think, feel, and act in anti-bias anti-racist ways. My identity and experiences also impelled the establishment of the Women of Color affinity group, whose purpose is to create opportunities for historically underrepresented women of the NYJL to connect, to empower women by offering strength in shared experiences and member support, and to develop the potential of a diverse group of women leaders in our communities.
Through my lens as an Asian-American woman, I've grown my Junior League service to the Association level. I currently sit on the recently convened Diversity, Equity, and Inclusion Advisory Panel led by AJLI CEO, Patsy Doerr, and I'm looking forward to serving as President of the AJLI Women of Color Affinity Group next year.
How welcoming has the Astor House been to you?
The Astor House can be intimidating in its historic nature and grandeur. For NYJL members who don't visit often, it may feel unfamiliar or foreign. The Pine Room is designated as our social hub for friends to gather, but it can be incredibly isolating for a woman who has bravely entered alone to meet new people, only to sit by herself.
Let's remember that people make places: our community of NYJL members has the ability to make the Astor House warm and inclusive of everyone, a place where everyone feels like they belong and that they can call home. We strive to create welcoming spaces in each community around the City where we partner and serve, and we must actively do the same for our fellow NYJL members, in our headquarters or any place we inhabit, physically or virtually.
We are leaders as soon as we make the decision to join the NYJL. Leaders empathize with others, ask questions, build trust, and move forward with courage. In the Astor House, this looks like saying hello in the Ladies Lounge, introducing ourselves to someone we don't know in the Pine Room, connecting with a different committee member each week, asking staff how they're doing, and understanding that others may be arriving from or departing to very different worlds.
What do you want your fellow NYJL members to know about your personal experience as an AAPI woman?
My experience is one of many: in the United States, Asian Americans, Native Hawaiians, and Pacific Islanders (AANHPIs) originate from more than 50 countries and speak over 100 languages. 71% of Asian American adults were born in another country, two-thirds of U.S. Asians speak a language other than English at home, 8 out of 10 Native Hawaiians and Pacific Islanders in the United States are indigenous to this land, and multiracial Asians make up roughly 17% of the Asian population in the United States. [Sources: WHIAAPI Fact Sheet from the U.S. Department of Education and Key facts about Asian Americans from the Pew Research Center.]
It's impossible to encapsulate an intergenerational and intersectional experience in a few words, but I can share that many Asian women feel as I do: my experience in being treated as a perpetual foreigner, of society dismissing racism as my hallucination, and of simply being forgotten is complicated by my own internalization of invisibility and doubt in what others might call "minor" feelings.
My personal experience is inextricably linked to my ancestors and my community. There is grief and pain, there is hope and faith, there is joy and resistance. Every day, I hold multiple truths, beautiful and dark truths, as I straddle and embrace disparate worlds—and still I go on.
What do you recommend one read/watch that reflects your experience?
I find that regularly listening to podcasts, reading op-ed pieces, and diving into memoirs are ways to simultaneously learn about experiences different from my own and nourish the soul. These are my favorite ways to travel, journeys I can't otherwise access, and I've found resonance in the following resources:
Listen
Read
Watch
I also encourage you to build connections and deepen relationships with people who are so different from you that it's uncomfortable at first. Over time, learn about their history, culture, family, beliefs, and values—and how their story stands amidst it all. Be curious, empathic, and humble.
And I invite you for an ongoing dialogue with me! I'd be thrilled to share my latest listen/read/watch, so we can exchange reflections, ideas, experiences, hopes…and learn together.