Life Through Another Lens: Lauren Austin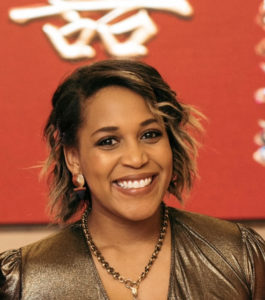 "Life Through Another Lens" features stories of our members, in their own words, shedding light on how weexperience the world and the NYJL through different lenses informed by our individual cultural identities. As we reflect on the last year, and how the pandemic forced us to change the way we live and volunteer, we invited NYJL volunteers who are healthcare heroes to share their perspectives on navigating this new reality. We admire and commend the healthcare heroes in our membership; thank you for your tireless work to save lives and safeguard the health of our city's residents.
This article has been lightly edited for clarity.
Lauren Austin, RN, BSN, is a Critical Care Nurse in the Cardiac Catheterization Lab at NewYork-Presbyterian Weill Cornell. At the NYJL, Lauren serves on the Transfers committee.
What brought you to the New York Junior League? I was introduced to the Junior League in 2008 by my dear friend Melia Boyson Schmidt. I was a member in the Junior League of Lexington, Kentucky, for three years and then transferred my membership to the NYJL in 2012 when I moved to the city.
What inspired you to join healthcare in general? I grew up in an environment that fostered altruism. I started volunteering with my parents and community before the age of ten. Both of my parents were working in jobs to better people's lives; my mom is a psychologist who worked for a nonprofit, and my father is in the medical field. I adored and was deeply inspired by my pediatrician. I always knew I needed a career helping others, but wasn't quite sure what that would look like. While in college the economy tanked and two of my best friends were also considering nursing, so things naturally just fell into place.
What was it like for you those first few months during COVID? What has it been like being on the frontlines? In my current role at the Cath lab, I work with people who have chest pain, do percutaneous valve replacements, and treat those having a heart attack. To work in this area, you need to have experience working in the intensive care unit (ICU). For the first weeks of COVID, we heard and studied COVID patients. Then our organization received  one patient at our sister hospital, and then one at our hospital and then a few more the next day. All of the sudden, we were all deployed as ICU nurses to different areas of the hospital, to sister hospitals, or operating suites and post-anesthesia care units that were converted into ICU rooms. It was shocking; it really went from nothing to a tsunami. With NYC being one of the first places to get hit by COVID, we were all trying to learn along the way, with patients decompensating very quickly.
Being on the front lines was extremely overwhelming. The hospital helped us in several ways; we were so grateful for lodging at nearby hotels and transportation so we didn't put others at risk at home. Our patient load was drastically increased, our hospitals were over capacity, critically ill COVID-19 patients were showing unique symptoms, and even staff was getting COVID quickly. At one point 16 out of 26 people from my unit got COVID. My colleagues and I think it was worse than what they showed on TV for the most part. People just kept getting sick, coming in to the hospital so we had to find ways to take care of them without having enough of what we needed. It took all of us working together, and it was a miracle we figured it out. 
Have you received any support from your fellow NYJL volunteers and community members?  Everyone and businesses were absolutely wonderful to me and others in the healthcare sector. A group of my closest friends in the NYJL were constantly checking in on me, sent me care packages, cards, and made sure I was okay, along with many of my friends and family members. It was really incredible to have a strong support system at such a difficult time.
My colleagues and I became extremely tight knit, exchanging emergency information about our families in case we became ill, and relying on each other for strength during this unimaginable time. I was working 13 hours a day and even something as small as my committee members at the League showing me grace on things I was working on or just checking in was appreciated. All in all, I am thankful I was able to use my skills to help our community during this crisis and so grateful to our colleagues, friends, families, everyone, including businesses as they supported us and all essential personnel during this time.
How did the pandemic change your life? First, it is hard for me to imagine a world without wearing a mask! Second, I now take one day at a time, even one hour at a time. I was always close with family and friends, but now I truly prioritize and over emphasize the importance of quality time with the people I love. Lastly, extending empathy to almost everyone understanding our lives and how it can change in an instant. I am thankful to continue to have the opportunity to help and serve our community.