Celebrating NYJL's Long History of Supporting Children in the Arts
As you may have seen in the most recent Astor House lobby display, the New York Junior League has a long history of fostering youth engagement in culture and the arts in New York City. In fact, this legacy of connecting young hearts and minds to the arts spans back as far as 1905, when members of the League taught dancing, carpentry, sewing, and handcrafts to children at the Greenwich House and basketry and embroidery to young New Yorkers at the Hartley House or Settlement Houses, some of which still exist. 
Throughout the years, volunteers have carried on this mission. For example, a forerunner of the NYJL's present day Culture and the Arts programs, the Trouping committee began entertaining children with plays and musical performances at settlement houses, public playgrounds, and hospitals in 1912. The NYJL's Performing Arts Workshop Committee worked with young people at the Lenox Hill Neighborhood House and the Phoenix House to rehearse and stage plays. The Adventures in Music Committee helped kids from all over the city gain access to Lincoln Center to hear everything from jazz to symphonies. And the Plays for Empowerment Committee helped girls develop confidence through engaging with theater.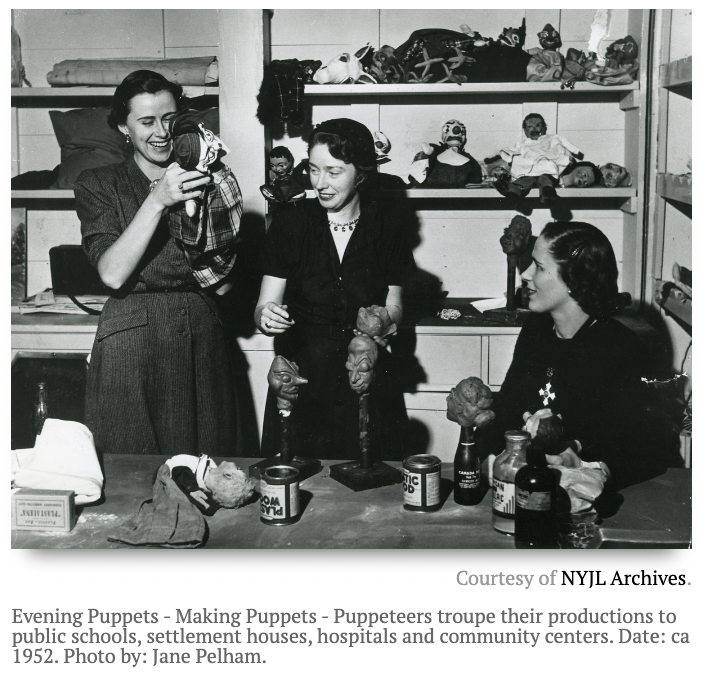 Much of this work through the years has taken place in museums. In 1956, volunteers from the NYJL's Museum committee recreated the interiors of 17th and 18th century Dutch colonial homes in New Amsterdam for the Museum of the City of New York's "Please Touch Exhibit," and children – for whom the exhibit was developed – were encouraged to engage with the cultural objects directly by touching and playing with them. Members also arranged museum visits during which blind and visually impaired children could engage with sculpture art through touch.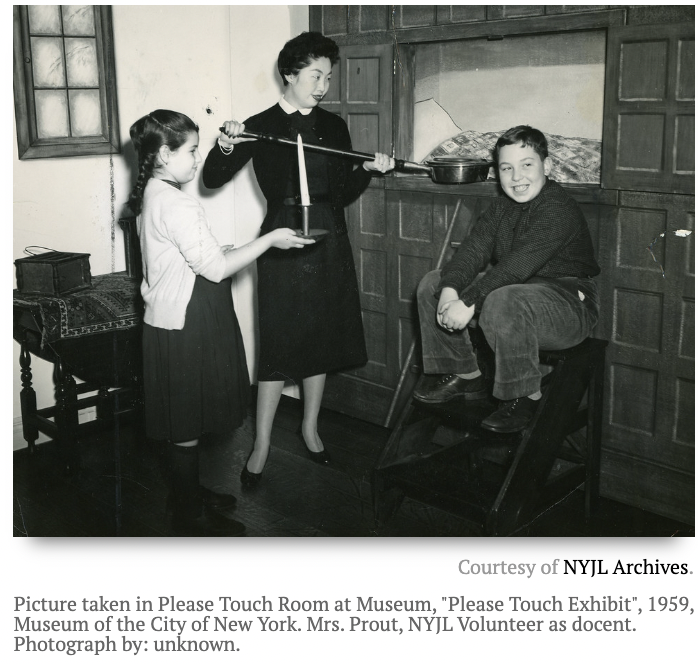 New York Junior League members also used to supplement arts and cultural education directly in New York City classrooms, visiting a series of schools with slide shows of artwork to expose children to the arts while simultaneously giving their teachers much-needed breaks in the day to recharge. 
Today, the League's Da Vinci Explorers program carries on this legacy by enhancing children's interest and capabilities in both art and science. The Artistic Journeys committee provides visual arts education to students aged 6–11, developing meaningful mentor relationships that help students broaden their horizons, increase self-esteem, and find a creative outlet through art.  The NYJL's Passport to the World committee is a one-on-one mentoring program, aimed at educating and empowering children to learn about the world around them through cultural, artistic, and hands-on activities to infuse different global thinking and values.
From its very inception, the women of the New York Junior League have known just how critical it is to empower local youth to connect with the hub of culture and the arts that is New York City, and the League's dedicated members continue to work tirelessly to carry on this torch today.