Dancing the Night Away at Bal en Blanc
On February 23rd, The New York Junior League hosted its 67th Annual Winter Ball. This year, the organization's members and guests came together at a stunning new venue, Pier Sixty overlooking the Hudson River. Bal en Blanc was the theme this year, but that did not stop attendees from wearing showstopper gowns of all colors.
The evening began with cocktails and a silent auction followed by a seated dinner and ceremony honoring the outstanding sustainers and volunteers, followed by a cocktail reception and silent auction. The fabulous dinner served nearly 350 who were in attendance enjoying a fine three course meal while listening to brief speeches given by the President Lauren Chung, and one honoree, Angel Rodriguez from Avenues of Justice who was the President's Council Award recipient.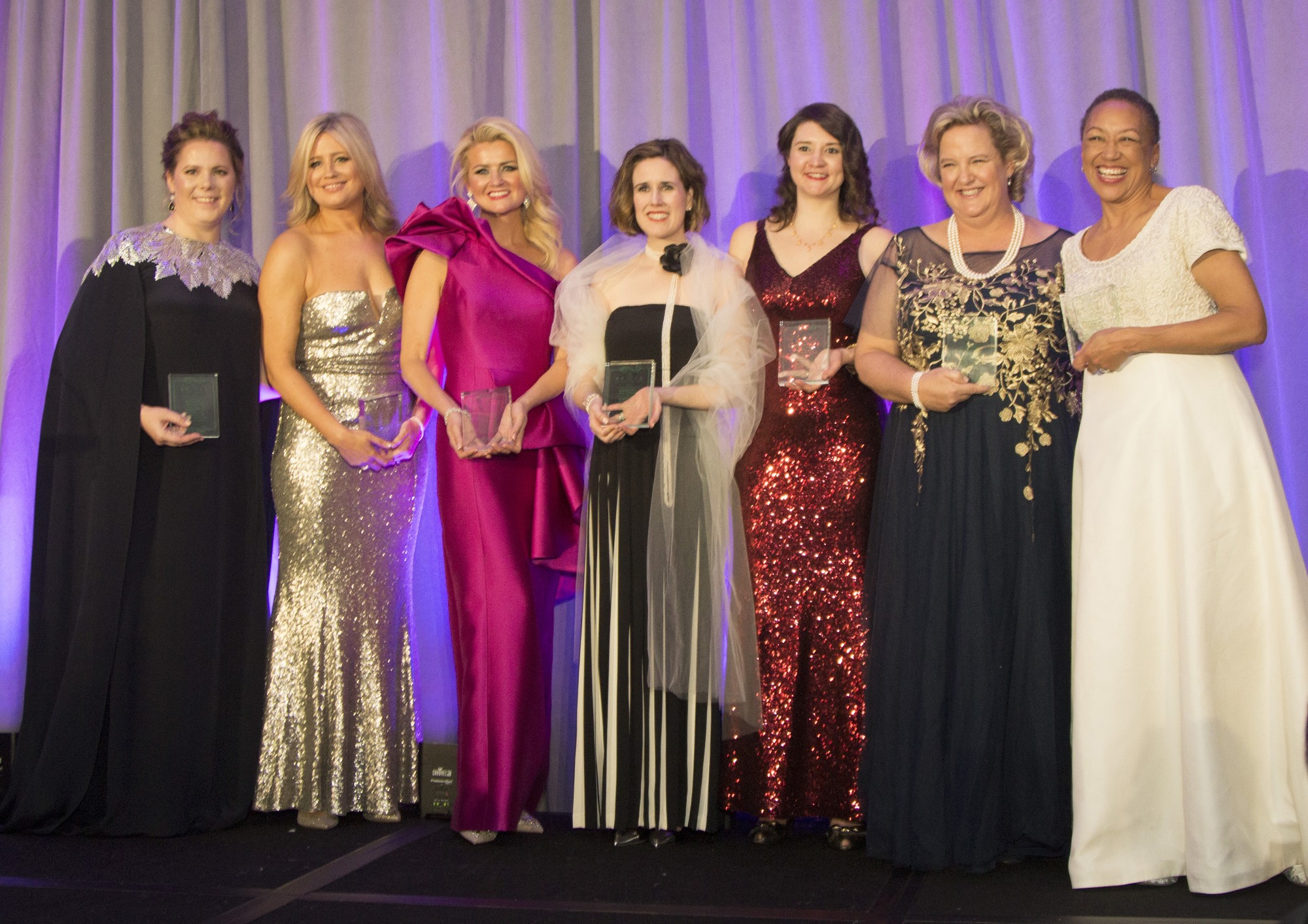 From left to right: 2019 Outstanding Volunteers (Allison Davis O'Keefe, Leighanna Morbey Favale, Dayna Barlow Cassidy, Shelby Spears Carroll and Beth Batiuchok-Colon) and 2019 Outstanding Sustainers (Dorothy Echols ("Dee Dee") Scarborough and Robin Stratton Rivera)
During the dinner and through dessert, a brilliant live auction began which raised $40,000 for the NYJL. Auction items included luxurious travel getaways, including a magical trip to Morocco and an enchanting ski trip to Courchevel for an Alpine Escape! The auction also offered exclusive tours and dinners around Manhattan, and even an opportunity to host a personal event at the historic Astor House, home to the New York Junior League headquarters.
Dessert and Dancing guests arrived and were joined by the VIPs who attended the dinner for several hours of dancing the night away to the lively band who kept the vibe going. A glorious change from the previous Winter Ball events at the Pierre Hotel on the Upper East Side, Chelsea Piers premiering as the new venue was a hit!  Guests appeared to really enjoy the view and also the atmosphere of the open waterfront party.
Each year the New York Junior League works tirelessly to organize their largest fundraising event of the year so that its members and non members can come together and honor the year's most outstanding sustainers and volunteers for their incredible dedication and accomplished work as women leaders within the organization. The Winter Ball also earns substantial proceeds to directly benefit the NYJL and this year raised over $500,000!  Next year will surely be tasked to top the 67th Annual Winter Ball, but we are sure only something greater will be in store!