The 66th Annual Winter Ball
March 3, 2018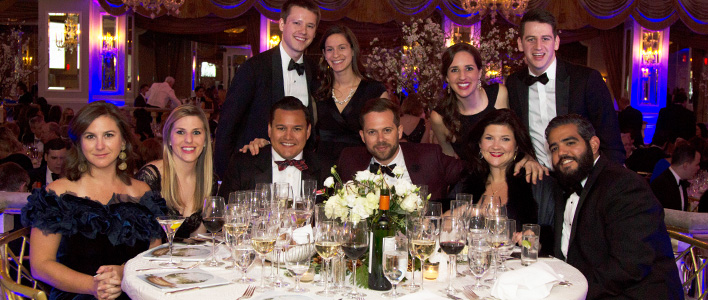 The NYJL Winter Ball is a special evening, bringing together volunteers, family, and friends to honor recipients of our Outstanding Sustainer and Outstanding Volunteer Awards, the NYJL's highest honor. Our largest fundraiser also celebrates both our community projects and our women volunteers who dedicate themselves to New York City. Winter Ball proceeds make our community work in NYC possible.
On behalf of the NYJL and the 2018 Winter Ball committee, we invite you to
The 66th Annual New York Junior League Winter Ball
Saturday, March 3, 2018 • The Pierre Hotel
Tickets & Tables | Honorees | Schedule | Support | Journal | Sponsors
Tickets & Tables
Please join us on Saturday, March 3, 2018 at the Pierre Hotel for a very special evening. Tickets for the 2018 Winter Ball are offered at three levels: Harriman Circle (VIP), Dinner, and Dessert & Dancing. Tables of 10 are available.

$750 • Sales close at 5:00 p.m. on February 23.

The Harriman Circle was established in honor of the vision of the NYJL's founder, Mary Harriman. This exceptional group is comprised of NYJL volunteers, family, friends, and corporate sponsors who support the Winter Ball at the Benefactor level. Harriman Circle benefits include: a private pre-ball reception at the Pierre, an elegant four-course seated dinner, a VIP gift bag, and an exclusive VIP experience featuring reserved seating and a private bar during dessert and dancing. Harriman Circle members will be acknowledged on the Winter Ball invitation, below under "Supporters," and in the souvenir journal distributed to dinner guests the night of the ball. (Tickets must be purchased prior to Friday, February 9, 2018, for donor name to appear in the journal.)

$525 • Sales close at 5:00 p.m. on February 23.

A Dinner ticket includes reserved seating for an elegant four-course dinner and a Winter Ball gift bag.

Dancing & Dessert tickets Purchase Now

$250 • Sales close at 5:00 p.m. on March 2.

Dancing & Dessert tickets include admission to the event from 9:30 p.m. until 12:30 a.m.

$7,500 • Sales close at 5:00 p.m. on February 23.

A table includes 10 dinner tickets for an elegant four-course dinner.
Our Honorees
The Outstanding Sustainer (OS) and Outstanding Volunteer (OV) awards are the two highest honors that a NYJL volunteer can receive. Since the Winter Ball's beginning in 1952, five Active volunteers – and beginning in 1962, one Sustainer and in 2004, two Sustainers – have been selected each year to receive this prestigious honor.
Our 2018 honorees are:



2018 Outstanding Sustainers
Nancy Houghton
Wendy Wade
2018 Outstanding Volunteers
Mary Catherine Burdine
Katie Cook
Nicole Ferrin
Elizabeth Fabsits Pavone
Kim Essency Pillari 

Meet our Outstanding Sustainers & Outstanding Volunteers:

Nancy Houghton
Outstanding Sustainer Nancy Houghton has spent her life making positive changes in her community. The NYJL "trained her to value volunteers and she particularly learned from the Junior League that volunteers must be in a job they like and enjoy doing." Today, Nancy is the Executive Director at Health Advocates for Older People, where she uses her training and past experiences with the NYJL to lead 700 free programs each year for more than 1,000 participants. Her ties to NYJL's work remain strong. In fact, Community Health Access Module Program committee provides weekly seminars for the organization that Nancy leads. Working with this team has introduced a whole new generation of volunteers to her. She counts the partnership as "an enormous blessing."

Nancy served on the Early Childhood Development committee for over 18 years, where her work prompted her to get a Master's Degree in Psychology with a focus in parenting from NYU. The lessons she learned during her years on the committee have "spilled over into all areas of her life."

Nancy also worked with the Breast Cancer committee, bringing awareness to the disease. She often made presentations explaining the life-saving importance of self-examinations to employee groups in New York City. She held roles on the Placement and Thanksgiving Eve Ball committees. Outside of the NYJL, she continues her outstanding volunteer service at the Church of the Heavenly Rest and the Child's Health Service.

Gwendolen (Wendy) L. Wade
Wendy credits her long and extraordinary tenure with the NYJL for "preparing her to step out into the New York community at any level and offer volunteer service." The citizens of New York continue to benefit from her long-time advocacy for the health and well-being of her neighbors.

As an active volunteer with the NYJL, Wendy chaired the Provisional Training and Personnel committees. She also chaired the Winter Ball and Thanksgiving Eve Ball committees, two important fundraisers that are "a wonderful way to introduce young women to the League at an early age." Wendy was on the Board of Directors as Secretary where she wrote for the NYJL newsletter, then called Bulletin. Her time on the Board was a "wonderful experience, introducing her to the inner workings of the League and to many talented women." Serving on the Board offered Wendy a special opportunity to help plan and shape the future of the Junior League. In 1980, Wendy was named an Outstanding Volunteer. In addition to her NYJL service, Wendy is the First Vice President of the Health Advocates for Older People, where she was honored beside Edward Cardinal Egan in 2012 as an Outstanding Community Leader. She has held positions on many boards, including Episcopal Charities and the Garrison Forest School, where she received the Distinguished Alumna Award in 2016.

Wendy is a Healing Practitioner, Teacher, and a Reiki Master. She currently owns Wendy Wade Designs where she creates and manufactures hand-painted and decoupaged decorative Tôle accessories. Wendy's dedication to giving back was instilled in her by her mother's example of volunteering at the local hospital coffee shop in rural Massachusetts. Wendy is proud that her commitment of service has been passed on to her grandchildren.

Mary Catherine Burdine
Mary Catherine volunteered throughout high school and college at local domestic violence shelters and hunger assistance programs. After college, she moved to New York and continued her commitment of service with the NYJL, where she forged "lifelong friendships based on a common bond of loving New York City."

Using her professional and philanthropic skills in event planning and fundraising, Mary Catherine makes positive impacts by developing public awareness and donor relations campaigns. Early in her NYJL career, Mary Catherine served as member and co-chair for the Astor House Events committee, where she helped create a consistent calendar and make Astor House events "must-attend opportunities with distinct identities." She was named a Woman to Watch in 2013. Later, she played a vital role in creating our marquee event, Savor the Spring.

Mary Catherine served on both the Fundraising Events Council and the Development Work Group, ultimately holding the position of Fundraising Events Senior Council Head. She credits her success as Senior Council Head with the support she received from "incredible Council Heads as well as committee chairs who instilled the greatest confidence that they can execute on day-to-day operations."

Mary Catherine believes her volunteer success is "because of consistent mentorship from NYJL management." She now has shifted focus to developing future NYJL leaders by serving on the Provisional Training committee. Professionally, Mary Catherine is a Luxury Account Director at Bloomberg Media, Bloomberg LP, where she is also a Best of Bloomberg (BOB) Employee Volunteer at various Bloomberg Philanthropy Projects.

Katie Cook
Katie draws on her volunteer experience with the NYJL to accomplish her daily work, offering wellness training in high-need New York City public schools. She credits her time with the NYJL in allowing her to be more sensitive and understanding of the needs of her students and their families.

Joining the NYJL to become more involved in her community, Katie fulfilled her desire to give back to underserved populations in an effective and organized way. She served on the Playground Improvement Project as a committee member and vice-chair before becoming the co-chair in 2013. She collaborated with the parks manager to revitalize Tompkins Square Park, an East Side landmark. The Playground Improvement Project—her first committee and her longest tenure—will always have a special place in her heart.

Katie also co-chaired Community Improvement Project committee, where she helped lead the partnership with Union Settlement Association to renovate their multipurpose room making it a sanctuary for youth in East Harlem.

As a professional chef, Katie's expertise was perfectly suited for her position as co-chair of the CHEF committee. Now the Child Health & Welfare Council Head overseeing CHEF, she "still feels connected to the committee" and is actively working to ensure volunteers and clients are getting the most out of their time.

Elizabeth "Liz" Fabsits Pavone
Liz transferred to the NYJL from the Junior League of Chicago in 2004. As a transfer, the NYJL offered her "the opportunity to get plugged into a community of like-minded women and learn about [her] new city." She soon found a home away from home, where every time she walks through the doors of Astor House, she sees a smiling face of a fellow volunteer and feels inspired to continue to give back to her community.

Quickly settling into her role in the NYJL, Liz joined the Advocates for Public Policy committee (APP) where she learned state legislative processes and worked with Albany to advocate for policy change related to domestic violence. That year, APP was named an NYJL Committee of the Year. Liz continued to build meaningful relationships both in the NYJL and around New York City while serving on the Done in a Day on Demand committee (DIAD-OD). In 2006, Liz moved to Boston, but transferred back in 2011 as co-chair of DIAD-OD.

Liz served on the Nominating committee and in 2015–2016 co-chaired the Community Improvement Project, when they partnered with the Hartley House in Hell's Kitchen for the renovation of their creative learning space for youth. She led over 30 NYJL volunteers, who collectively gave 650 hours of service to complete the renovation project. That year, the Hartley House honored the NYJL with the Philanthropic Excellence Award. Liz now serves as the City Impact Council Head. Professionally, she is a Senior Manager at KPMG LLP.

Nicole Ferrin
Nicole was raised in a family that values participating in community service projects. A meaningful future with the NYJL seemed inevitable for a younger Nicole. She was a member of the high school organization called Twenty Little Working Girls that promotes volunteerism and empowering young girls to learn leadership skills. Over the years, her work with the NYJL has reminded her of the projects her family did while she was growing up; on a trip to the Galapagos Islands, they spent a day working with a local school to revitalize its playground.

Since joining the NYJL in 2007, Nicole has touched the communities the NYJL serves. She was a member, vice-chair, and co-chair of the Performance of a Lifetime committee where she worked with children at Boys & Girls Harbor, introducing them to live performances at community venues. She bonded with students over many years and "got to know them and watch them grow as people." This work led her to serve as Culture & the Arts Council Head in 2014. In this position she oversaw the NYJL's 25th Playground Improvement Project.

Nicole currently holds the position of Community Senior Council Head and serves on the Strategic Planning Work Group, helping to shape the NYJL's future. Last year she served on the 115th Anniversary Planning Task Force, planning 115 hours of continuous volunteering for Around the Community, Around the Clock. She remains proud that she coordinated participants included NYJL volunteers of all ages, community members, students, and more to provide 1,500 hours of service. Professionally, she extends her work with youth as the Director of Admissions and Administration for Barrow Street Nursery School.

Kim Essency Pillari
Since 1999, Kim has held many distinguished positions throughout the NYJL, serving alongside "like-minded professional women who want to make the city they live in even better for now and in the future." She served as a member of the Playground Improvement Project committee, as well chair and member of the Skylines committee, developing and writing the NYJL newsletter. In 2007, she started to focus on communications, serving as the Communications VP and Secretary on the Board of Managers. Kim served on the Nominating and Governance committees. In 2011, she was proud to be part of the Communications Task Force that created our campaign, I volunteer because…

Throughout her time at the NYJL, Kim has remained "grateful for all the opportunities she has had and feels a responsibility to create similar opportunities for others." She believes in collaborating with volunteers to watch ideas blossom into action. To ensure the NYJL's continued success, Kim uses her storytelling expertise to cultivate donors and corporate sponsors while serving as member, now co-chair, of the Development Work Group. She also held a two-year term as chair of the Audit committee and has been a member of the Investment Work Group. Today Kim is serving her third year of a three-year term as Director-at-Large on the Board of Directors.

Kim "wouldn't trade [her] experience for anything—volunteering for the NYJL has made [her] a better person personally and professionally." In turn, the NYJL has recognized Kim's service; she was named an NYJL "Woman to Watch" in 2005, and under her leadership as Communications VP, Between the Lines received Committee of the Year in 2008. Professionally, Kim has had a stellar career as a communications professional at leading global organizations and currently works as an internal communications executive.
Winter Ball Schedule of Events
6:30 p.m. Harriman Circle Benefactor Reception
7:00 p.m. Cocktails and Silent Auction
8:00 p.m. Dinners, Awards Presentation, Live Auction
9:30 p.m. Dancing and Dessert
Support
Our Fundraising success would not be possible without the support of corporate sponsors, underwriters, in-kind donations, and benefactors.
We also invite you to support the 2018 Winter Ball and our community work in the following ways:

Guests are invited to support the charity event through underwriting.

Donate to our Winter Ball auctions and support the NYJL's fundraising efforts.
Journal
Click here to see the 2017 Winter Ball Journal.
Sponsors