The 68th Annual Winter Ball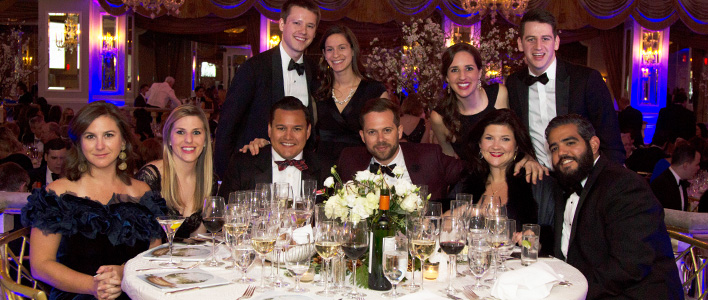 Saturday, February 29, 2020
Pier Sixty
Chelsea Piers, 23rd Street and West Side Highway, New York, NY
Winter Ball is a special event, bringing together volunteers, family, and friends to honor recipients of our Outstanding Sustainer and Outstanding Volunteer Awards, the New York Junior League's highest honor. Our largest fundraiser also celebrates both our community projects and our women volunteers who dedicate themselves to improving communities in New York City.
Since 1952, the Winter Ball has helped raise essential funds for the NYJL's vital community programs while featuring the presentation of NYJL's highest awards to seven volunteers who have demonstrated an exceptional commitment to volunteerism and our community. Winter Ball proceeds make our community work possible.
Please save the date for the 68th Annual Winter Ball in 2020!
Our Honorees
2020 Outstanding Sustainers

Rosemarie E. Dackerman
Ellen Rose

2020 Outstanding Volunteers

Alexandra Atkins
Cristina Hagglund
Olivia M. Leon
Mallory Morgan
Bonnie Orlowski
2020 Announcement Party
Friday, November 15 • 7:00–9:00 p.m.
Astor House, 130 East 80th Street, New York, NY 10075
Each year the NYJL hosts a reception to publicly announce the honorees of our Outstanding Sustainer and Outstanding Volunteer awards. Hosted this year by the Engagement Events committee, this event kicks off our season of celebrating their work, culminating in a formal celebration at our annual Winter Ball.
Attend the Ball
Winter Ball Schedule of Events
6:30 p.m. • Harriman Circle Benefactor Reception
7:00 p.m. • Cocktails and Silent Auction
8:00 p.m. • Dinner, Awards Presentation, Live Auction
9:30 p.m. • Dessert and Dancing
Winter Ball Journal
Friends, family, and supporters of our honorees are invited to purchase congratulatory ads in the 2020 Winter Ball Journal, a 100+ page souvenir publication distributed at the event to every dinner guest. Honorees treasure this document for the messages of support and celebration which it includes! the Journal includes commemorative ads, the event program for the evening, biographies of the honorees, highlights of the NYJL's community work, and a preview of the live auction.
Two types of ads are available:

Friends and Family Ad: Purchase Ad

Features a single black and white photo and four lines of text for $500.
Allows more flexibility in design; prices vary based on color, size, layout, and design. Please contact Katie Piccininni for more information.
Journal ads must be purchased by Wednesday, January 15, 2020 for publication.
Support the Ball
Our Fundraising success would not be possible without the support of corporate sponsors and individual donors. You can support the 2020 Winter Ball and our community work in the following ways through a direct donation:
Sponsors
To learn more about supporting the NYJL as a 2020 Winter Ball Sponsor, please contact us at winterball@nyjl.org.
Traveling To and From Pier Sixty
We recommend visiting Pier Sixty's website for specifics on travel to the venue from various points in and around Manhattan. Taxis and other cars should enter Pier Sixty according to the venue's posted directions. For pedestrians, Pier Sixty is located off 11th Avenue and 19th Street, and street crossings for 11th Avenue are located at 18th and 20th Streets. 
We strongly encourage guests to download rideshare or taxi-hailing apps such as Arro, Gett, Juno, Lyft, Uber, or Via, prior to arriving at Pier Sixty.  The use of these apps will facilitate an easier departure from Pier Sixty.  Winter Ball volunteers will be available at the end of the evening to assist guests with requesting cars on these apps.  
Nearby Hotel Recommendations