::::ARCHIVE::::: 2020 Golden Tree
Virtual Holiday Shopping Boutique
Sunday, November 8–Saturday, November 14, 2020

Golden Tree is a week-long, virtual holiday shopping experience, showcasing a variety of stores within homewares, accessories, apparel, pets, gifts, and food. Alongside this, there will be festive events and a silent auction throughout the week.
Golden Tree generates vital dollars for our community work. When you use our promotion code GT2020, our retail vendors donate 20% of all sales back to the NYJL. The success of Golden Tree and our other fundraising events, along with generous donations from individuals and businesses, helps us achieve our mission to improve the lives of women, children, and families in New York City.
VISIT THE GOLDEN TREE EVENT WEBSITE
MAKE A DONATION TO GOLDEN TREE
ATTEND GOLDEN TREE
Join us for a festive week of shopping, silent auction and exciting events. See details below.

EVENT TICKETS
$31 • Virtual Comedy Show  Tickets 
Thursday, November 12 • 7:00–8:00 p.m.
Details Here
$155 • Wine Tasting with Le Grand Triage  Tickets 
Friday, November 13 • 7:00–9:00 p.m.
Details Here
$15.50 • Children's Sing-Along with Diller Quaile  Tickets 
Saturday, November 14 • 11:00 a.m.–12:00 p.m.
Details Here
$15.50 • Dance + Define pilates class with Blaire Buchanan  Tickets 
Saturday, November 14 • 12:00–1:00 p.m.
Details Here
Celebrate Diwali • For NYJL volunteers
Saturday, November 14 • 5:30–7:30 p.m.
Details Here
VISIT THE GOLDEN TREE EVENT WEBSITE
SHOP OUR ORNAMENTS
Celebrate 119 years of the NYJL and its charitable activities with this year's handblown-glass limited edition ornament. Buy a gift that gives back.
Holiday Wreath & Santa Clause Ornaments  Purchase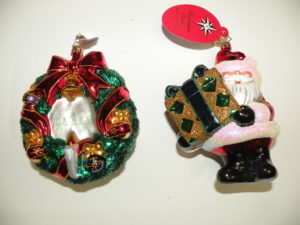 SHOP GOLDEN TREE
Visit the special Golden Tree event website to shop vendors by category. Starting Sunday, November 8, please use our promotion code GT2020, so our retail vendors will donate 20% of all sales back to the NYJL.
BID ON THE SILENT AUCTION
The silent auction is now live!  Bid in the Silent Auction
DONORS AND SPONSORS
We thank our donors and sponsors of the 2020 Golden Tree!
31st State
Abby Tufts
Accessories By Sarah
Adrianna Naomi Yoga
AILLEA
Ally Shoes
Amberjack Shoes
Annabelle's Collection
Azalea and Oak
Beessential
Behrnes' Pepper Salt
Bellemonde
Bespoke Brows
Bloom Farms
Blvd Co
Book of the Month
Buldano
Caila Quinn
Calia Quinn
Christian Siriano
Christina's World
Classic Prep Monograms
Coco Suisse
Cristina V.
Debbie Smith
Dempsey and Carroll
DO, Cookie Dough Confections
Dovecote Ranch and Estate Winery
Drinkworks
Elisabetta Orecchini Jewelry
Ellen Smith
Empire State Jewels
Ever/Body
Fearghal Custom Clothiers
Federal & Black
Fete Home
Five Iron Golf
FlowerSchool New York
Fox Burrow Designs
Fraunces Tavern
Funky Collective
Gigi New York
Glowbar
Goldno.8
Haute Sweet Home
Hi Rise Hive
J Wilder Imports
J. Daniel Portraiture & Fine Art
Karen Egren Jewelry
Kendra Scott
Kokopelli
Kramer Portraits
Laruce Beauty
LazyJack Press
Leisha Anderegg
Luxe Peddler
Mallory Morgan
MarilynsBookNook.com
Max & Luna Baby And Kids
Meena Creations
Melissa Bamber Home
Miami Beach Bum
MillerMae Designs
MNDFL Meditation
My City Plants
Nest Inspired Home
Nothing Bundt Cakes
Notti Toffee
Olfactory
OVALWARE
Bean Vault Coffee
P.L.A.Y. Pet Lifestyle and You
PEACHY
Pearl Street Caviar
Petite Plume
Pippitolstoy
Porter Lyons
Rose & Rex
Rumble
SantM
Sarabeth's
Seidl Scents
Serena & Lily
Seyyah
Silver Mirror Facial Bar
Soukra
Spirited Nutrition
Sweet Wink
Sweetly Created
Sweetwater Labs
Switch Playground
Tall Order
The Class by Taryn Toomey
The Ness
The Vintage Twin
Tito's
Tory Burch
Unparalleled Physiques
Walt Winchurch Art
Xocolatti
Yikes Twins
A special thank you to our NYJL committees and volunteers that generously donated beautiful wreaths to this year's auction!
Beacon to Broadway Committee
Crisis Intervention Committee
Done In a Day Committee
Done in a Day On Demand Committee
FELC Committee
Home Design Committee
Mallory Morgan
New View Committee
Performance of a Lifetime Committee
Playground Improvement Project
Project Muse Committee
Rights of Passage Committee
Senior Friends Committee
Specialty Events Committee
Sustainer Evening Committee