Life Through Another Lens: Kathleen Adams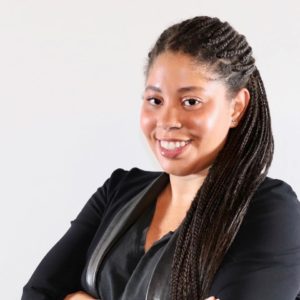 This is the first of a new series that highlights the stories of our members, in their own words. This series aims to shed light on how our volunteers experience the world , their volunteer service, and the NYJL through different lenses, informed by our individual cultural identities. For our first installment, in honor of Black History Month, we feature NYJL volunteer Kathleen Adams. We are grateful to Kathleen for being the first!
This article has been lightly edited for clarity.
What prompted you to become a member of the New York Junior League and how long have you been a member? I joined the New York Junior League when I was in college. I moved to New York City and attended Fordham University for both undergrad and grad school. I wanted to meet other women outside of just campus life, and I wanted to volunteer, so I decided to join. I've been a member since 2008.
How do you identify yourself? I identify as an African-American woman.
How welcoming has Astor House been to you? I miss going to the Astor House (because of COVID). The Astor House taught me how to step outside of my comfort zone. By this I mean that everyone in the Pine Room was always very welcoming, and it gave me an opportunity to mix and mingle with other women I did not know. I'm an extrovert so this comes easy for me. I know, however, this is not the case for everyone, and every time I find myself in the Pine Room or at an event in the Astor House, I try to find a woman I've never met before and bring her into my conversation and meet the other people I'm hanging out with. I've made some amazing friends through those intentional gestures!
What would you want your fellow NYJL members to know about your personal experience as a Black woman? I have always been a community activist, and I try my best to surround myself with others who are activists as well. Shedding light on racism and police brutality is really important to me. Every person deserves the right to feel safe, no matter where they are. Unfortunately, as a Black woman, I'm not afforded that opportunity. Historical racism, systemic inequality and other structural factors have gone on far too long, and it's time to raise our voices and take action. I know it's uncomfortable to talk about the Black Lives Matter movement, especially in an organization that is predominately white, but for change to occur, we need allies who don't just "talk the talk" but "walk it." I want other members to know it is simply not enough to just put up a black square on their social media pages for an awareness day. To feel supported, I want non-Black women to help break the war against Black bodies. That means having difficult conversations, reading books and articles about the subject, donating to causes that directly support Black organizations, etc…
From an NYJL perspective, that would mean realizing there are not enough Black women in leadership positions and helping elevate Black members into leadership positions. For me, I felt elevated when I was suggested to apply for the Nominating committee and won a seat at the table. That experience taught me about the inner workings of the NYJL, and I took that knowledge and shared it specifically with other Black members so they knew what actually went on behind closed doors and could best craft their NYJL experience and involvement to rise in the leadership ranks. 
What would you recommend one read/watch that reflects your Black experience? The book Little Fires Everywhere by Celeste Ng. It is about where I am from (Shaker Heights, Ohio) and focuses on the Utopian ideals of my community and the personal and community struggles to live up to those ideals.
Another book that discusses the Black experience and education is the novel The Gilded Years by Karin Tanabe, which I love and sheds light on the importance of education in the Black community (and other topics as well).