Words of Wisdom part 1: Quotes from notable Junior League volunteers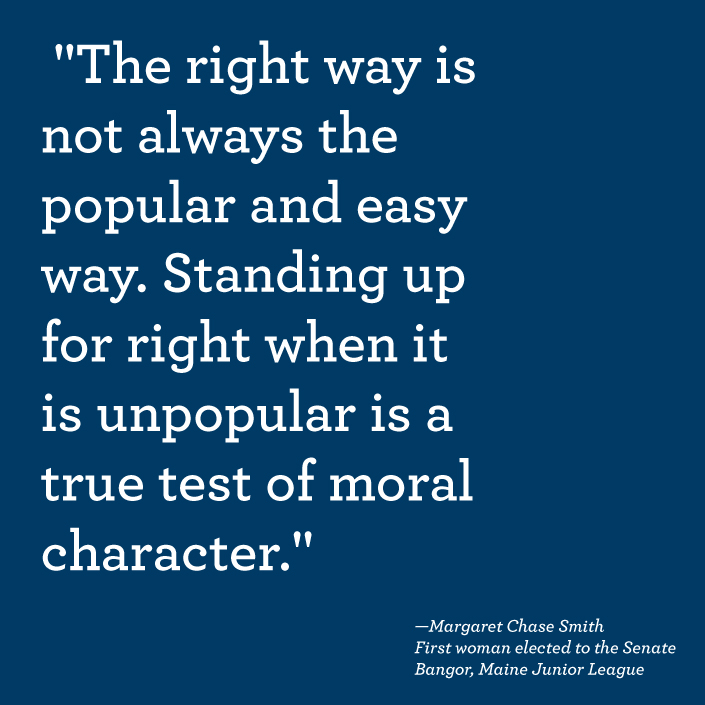 It's no surprise that Junior League volunteers have a lot to say, not only about the work we do in communities worldwide, but also about life in general. Below, we've compiled some favorite quotations from notable women—all of them one-time Junior League volunteers!
"Be yourself, it's a tough act to follow." – Katharine Hepburn, Actress and Junior League of Hartford, Connecticut volunteer
"There are many of us who should be in a position to bring peace to the world." —Shirley Temple Black, Actress, U.N. delegate, and Junior League of Palo Alto, California volunteer
"All serious daring starts from within." —Eudora Welty, Pulitzer Prize winning author and Junior League of Jackson, Mississippi volunteer
"Giving frees us from the familiar territory of our own needs by opening our mind to unexplained worlds occupied by the needs of others." —Barbara Bush, Former First Lady and Junior League of Houston, Texas volunteer
"There's a big, wonderful world out there for you. It belongs to you. It's exciting and stimulating and rewarding. Don't cheat yourself out of this promise." —Nancy Reagan, Former First Lady and Junior League of Los Angeles volunteer
"…the only way to show the disbelievers, the snickering hangar pilots, is to show them." —Cornelia Fort, U.S. aviator, the second member of the Women Airforce Service Pilots, and Junior League of Nashville, Tennessee volunteer
"The right way is not always the popular and easy way. Standing up for right when it is unpopular is a true test of moral character." —Margaret Chase Smith, First woman elected to Senate and Junior League of Bangor, Maine volunteer
"The measure of achievement is not winning awards. It's doing something that you appreciate, something you believe is worthwhile." —Julia Child, Chef, author, TV personality, and Junior League of Pasadena, California volunteer
"Do the best you can in every task, no matter how unimportant it may seem at the time. No one learns more about a problem than the person at the bottom." —Sandra Day O'Connor, First woman Supreme Court justice and Junior League of Phoenix, Arizona volunteer
"The search for human freedom can never be complete without freedom for women." —Betty Ford, Former First Lady and Junior League of Grand Rapids, Michigan volunteer
"There is no game like the direct attack. Fancy strokes, while effective to watch, do not bring the results a fast driving game does." —Helen Wills Moody, Olympic medal winning tennis player and Junior League of San Francisco, California volunteer
Stay tuned for Part II of the Words of Wisdom series, where we feature quotes from NYJL volunteers about the impact they make in our community. Want to share your own thoughts on the role the NYJL and volunteer work have played in your life? We'd love to hear from you! Email publications@nyjl.org and we'll consider you for our next installment of Words of Wisdom!