The 68th Annual Winter Ball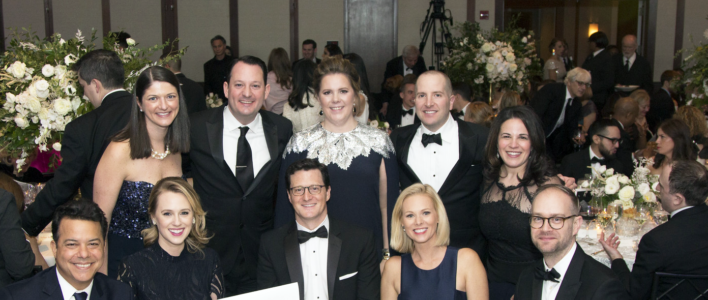 Saturday, February 29, 2020
Pier Sixty
Chelsea Piers, 23rd Street and West Side Highway, New York, NY
Winter Ball is a special event, bringing together volunteers, family, and friends to honor recipients of our Outstanding Sustainer and Outstanding Volunteer Awards, the New York Junior League's highest honor. Our largest fundraiser also celebrates both our community projects and our women volunteers who dedicate themselves to improving communities in New York City.
Since 1952, the Winter Ball has helped raise essential funds for the NYJL's vital community programs while featuring the presentation of NYJL's highest awards to seven volunteers who have demonstrated an exceptional commitment to volunteerism and our community. Winter Ball proceeds make our community work possible.
We look forward to welcoming you to the 68th Annual Winter Ball, Talavera by Twilight, on February 29!
Our Honorees
2020 Outstanding Sustainers

Rosemarie Elizabeth Dackerman
Ellen Rose

2020 Outstanding Volunteers

Alexandra Atkins
Cristina I. Hagglund
Olivia McBurney Leon
Mallory S. Morgan
Bonnie Elizabeth Orlowski
Attend the Ball
Please consider contributing to our Credit Card Fees Fund when purchasing tickets for NYJL events. The NYJL pays an average transaction fee of 3.5% on each credit card purchase, amounting to thousands of dollars every year. Your generosity will help our event revenue go farther. Suggested contributions for this event are $8.00-$25.00 per ticket, or $200-300 per table. 
$750 • Harriman Circle Benefactor VIP • Sales have closed

Harriman Circle ticket holders enjoy a Winter Ball experience curated to make this a night to remember! The Harriman Circle level includes exclusive benefits from beginning to end – starting with an intimate pre-dinner cocktail reception at 6:30 p.m., a delicious three course meal, access to a private lounge during the dessert & dancing portion of the evening, and a VIP gift bag.

$525 • Dinner Admission • Sales have closed

Dinner guests will begin the night with a cocktail reception at 7 p.m., experience a delectable three course meal, and take part in the evening program and live auction. This memorable evening continues on the dance floor with lively music to bring you to your feet while you enjoy views of the Hudson River and an assortment of exquisite sweets!

$250 • Dessert & Dancing Admission • Online sales have closed

Guests for our dessert & dancing portion of the evening are invited to join us at 9:30 p.m. to celebrate the excitement of the evening by dancing the night away to the sounds of our acclaimed band in a breathtaking waterfront setting. Desserts will be served to satisfy your sweet tooth and excite your palate. Walk-In Tickets are available at the door for $275.

$9,000 • Gold Benefactor VIP Table • Sales have closed

Guests at a Gold Benefactor table experience the VIP treatment throughout the evening, receiving benefits and preferred seating for 10 guests at the Harriman Circle level. This notable contribution will be honored with table signage; a full page, black and white ad in the Winter Ball Journal; and recognition in the Winter Ball Journal.

$6,500 • Silver Benefactor VIP Table • Sales have closed.

Silver Benefactor tables enjoy this special evening with preferred seating for 10 dinner guests, attending the general cocktail reception as well as gaining access to the festive dessert & dancing portion of the evening. This notable contribution will be honored with table signage; a half page, black and white ad in the Winter Ball Journal; and donor recognition in the Winter Ball Journal.

For questions about attending the Winter Ball, please contact winterball@nyjl.org.
Winter Ball Schedule of Events
6:30 p.m. • Harriman Circle Benefactor Reception
7:00 p.m. • Cocktails and Silent Auction
8:00 p.m. • Dinner, Awards Presentation, Live Auction
9:30 p.m. • Dessert and Dancing
The Winter Ball Auction
The Winter Ball Silent Auction is now live for browsing and bidding! Explore amazing items like:
A set of two Tiffany & Co bone china "Paper" cups;
A year of Botox treatments for you and a friend from Peachy;
A one-night stay for two in an Ocean View Room with breakfast at Gurney's Montauk;
A Physique 57 10-Class Pack;
A framed print by photographer Gray Malin;
Two General Admission tickets to the Greenwich Wine & Food Festival;
Register here or simply text code NYJLWB20 to 76278!
Donate to the Ball
Our Fundraising success would not be possible without the support of corporate sponsors and individual donors. You can support the 2020 Winter Ball and our community work through a direct donation or pledge.  Your donation may be eligible for a match by your employer–please let us know if you submit a match!
We are pleased to recognize donors in the following giving categories for the 2020 Winter Ball:
Picasso: $10,000+
Dalí: $2,500 – $9,999
Goya: $1,500 – $2,499
Velázquez: $1,000 – $1,499
Miró: $500 – $999
Patron: $250 – $499
Associate: $100 – $249
Supporter: $50 – $99
Friends: Gifts up to $49
2020 Winter Ball Sponsors
We thank the following sponsors for their support of this year's Winter Ball!
Gold Sponsors

Rosemarie E. Dackerman & Dr. Andrew E. Slaby
Cristina & Ryan Hagglund
Priscilla & Neil Hagglund
Francisca & Stephen Miller
The Orlowski Family
Ellen & Brian Rose

To learn more about supporting the NYJL as an individual or Corporate 2020 Winter Ball Sponsor, please contact us at winterball@nyjl.org. Corporate Sponsorship opportunities begin at $5,000.
Winter Ball Journal
Online sales have now closed for the Winter Ball Journal.  We thank you for your support!
Traveling To and From Pier Sixty
We recommend visiting Pier Sixty's website for specifics on travel to the venue from various points in and around Manhattan. Taxis and other cars should enter Pier Sixty according to the venue's posted directions. For pedestrians, Pier Sixty is located off 11th Avenue and 19th Street, and street crossings for 11th Avenue are located at 18th and 20th Streets. 
Nearby Hotel Recommendations