:::::ARCHIVE::: Marathon Team NYJL: 120th anniversary virtual 5K
The NYJL is running into 120 years!
Saturday, June 12–Sunday, June 13
Join the Marathon Committee for a Virtual 5K the weekend of June 12th-13th to celebrate the 120th anniversary of the New York Junior League. Help us get a running start on our next 120 years at the Astor House! Our virtual event is open to both members and supporters of the NYJL. We hope you will join us as we celebrate this important milestone in our history! 
Contact marathon@nyjl.org to learn more about participating in the 120th Anniversary Virtual 5K.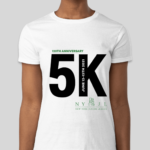 $36 • NYJL 120th Anniversary Virtual 5K  
Choose your own course and run, walk, or jog a virtual 5K race wherever you are! Your event registration includes a commemorative 120th anniversary t-shirt.
Your participation supports the NYJL's community programming, women's leadership development, volunteer training, and advocacy programs and helps provide resources to our nearly 60 partner organizations around New York City. Please note that all ticket prices include credit card fees, which allows us to further our impact in serving our community.
Your donation is tax-deductible. American Express, Visa, Mastercard, and Discover are accepted. No checks, refunds, or cancellations accepted.