TCS New York City Marathon and Team NYJL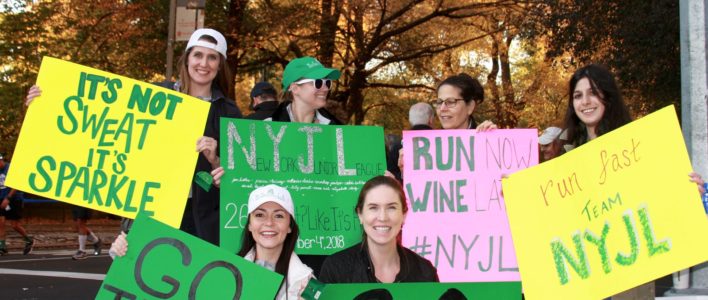 Team NYJL is a group of dedicated volunteers and supporters who run the annual TCS New York City Marathon in support of the New York Junior League. The members of Team NYJL have committed to training for this 26.2-mile journey while fundraising to ensure that the NYJL continues its mission of improving the lives of women and children in our community. Team NYJL has a collective fundraising goal of over $60,000, and every dollar raised will support the charitable activities of the New York Junior League.
Sign up to learn more about joining Team NYJL in 2020! Learn More
Whether you are already registered or need guaranteed entry for the 2020 TCS New York City Marathon, we would love to have you join us on Team NYJL. No prior running or fundraising experience necessary.  To be contacted with more information about running with Team NYJL, please complete the 2020 Team NYJL Runner Interest Form!  You can also contact us directly at marathon@nyjl.org to learn more about the benefits of running with Team NYJL.
Katy Bearden

"I feel incredibly honored to be running my first marathon on behalf of an organization that has become so dear to my heart over the past year. It has become so much bigger than me running 26 miles and I'm thrilled to represent Team NYJL!"

Amy Gibbons & Anna Carroll

"We're excited to be training for our first ever marathon and thrilled to be running with the amazing women of Team NYJL. This challenge is a great way to raise awareness about the organization and the work done by so many incredible volunteers. It is also an opportunity for us to test our limits. Taking this journey together
makes it all the more meaningful."

Kendall Croutier

"This is a wonderful opportunity to not only accomplish a goal of mine, but also to raise awareness and financial support for such a great organization. The NYJL has introduced me to smart, hard working women in New York who are active in the community and looking to give back in any way they can."

Ashley Eil

"I am proud to run for the NYJL because I love that the NYJL is an organization made up of all women volunteers who work hard to support their community, inspire women leaders, and train women to be leaders in the community and their own goals."

Amanda Feterik

"I'm so excited to run my 4th marathon this November. This will be my first time running as part of a team and I couldn't be more proud to train alongside the ladies of the NYJL while raising funds for a great cause."

Maddie Ginsburg

"I am proud to be running my first
marathon as a part of Team NYJL
because I know I am helping support our league and our community partners."

Charlotte Glatt

"I am proud to run for Team NYJL
because collectively we are able to push through a challenge beyond daily life while fundraising for a worthy cause."

Marissa Iacona

"I'm proud to run with Team NYJL
because we can see the direct effect the donations have on the NYC community which makes the 26.2 miles worth it!"

Lauren Junge

"I am so proud to run my second NYC Marathon for Team NYJL because the New York Junior League has given me so much over the years – from a sense of purpose to lifelong friendships – and I'd
like to give something back!"

Patricia Kemp

"As a first time marathon runner I am beyond blessed to be running as a member of the NYJL marathon team. This race is a huge accomplishment and being able to represent NYJL is an honor."

Sarah Ladouceur

"Having been around the NYJL and watching the NYC marathon since childhood it is really exciting for me to be tackling a lifelong goal in tandem with supporting a cause that has been such a big part of my life. It is really special to be part of Team NYJL!"

Brandi Lauderman

"The NYC Marathon has been a bucket list item for me and I'm so proud to be running with Team NYJL and fundraising to support their mission. Although I haven't crossed the finish line yet, I'm so grateful for the experience, the new friends I've made, an incredibly supportive committee and a wonderful coach."

Ally Maass

"I feel extremely lucky to be running with Team NYJL this year! With my sister being a member of the NYJL, it's awesome to be able to raise money towards the same projects and goals that she does. I'm proud to have been given the opportunity to run and contribute towards more charitable activities for the league."

Pauline Millard

"Running for the New York Junior
League has been a great way to raise money for an organization that has meant a lot to me, as well as checking off a major bucket list item."

Jane Moore

"I am honored to run the NYC Marathon for Team NYJL because it is an organization of strong women committed to promoting voluntarism, developing the potential of women and improving the community by touching the lives of women and children. I am so proud to be able to show my children that with training and
perseverance, anything is possible."

Ana Popkowski

"I'm so thankful for the opportunity to chase my dreams with Team NYJL while raising critical funding in support of the NYJL's mission. I've never been more inspired, humbled and grateful."

Nicole Savery

"I'm so excited to run my second New York City Marathon with Team NYJL! I'm proud to represent the New York Junior League and the volunteers who are doing meaningful work to improve the lives of our fellow New Yorkers."

Kelly Stephens

"I am so excited to be running my second NY Marathon this November. This experience has given me the opportunity to highlight an organization which dedicates its time and energy to improving the lives of all New Yorkers and I couldn't ask for a better group of women to be running it with!"

Alex Vaughn

"Having spent all of my Active years on Fundraising Events committees, I am excited for the opportunity to personally fundraise in support of an organization that I love and am proud to be part of. On Marathon Sunday I am thrilled to rep the NYJL as I run through all five boroughs of our city."
Official Team NYJL Merchandise
Merchandise is available for pick-up at The Astor House. Please email marathon@nyjl.org to coordinate.
Team NYJL Hat

(White)

Team NYJL

Water Bottle

Team NYJL Pullover

(Light Grey)

Team NYJL Pullover

(Dark Grey)

Cheer Team Cowbell

Team NYJL Sticker

Team NYJL Iron-On Patch

Team NYJL Sunglasses

Team NYJL Green

T-Shirt