Playground Improvement Project hosts ribbon cutting at St. Nicholas Park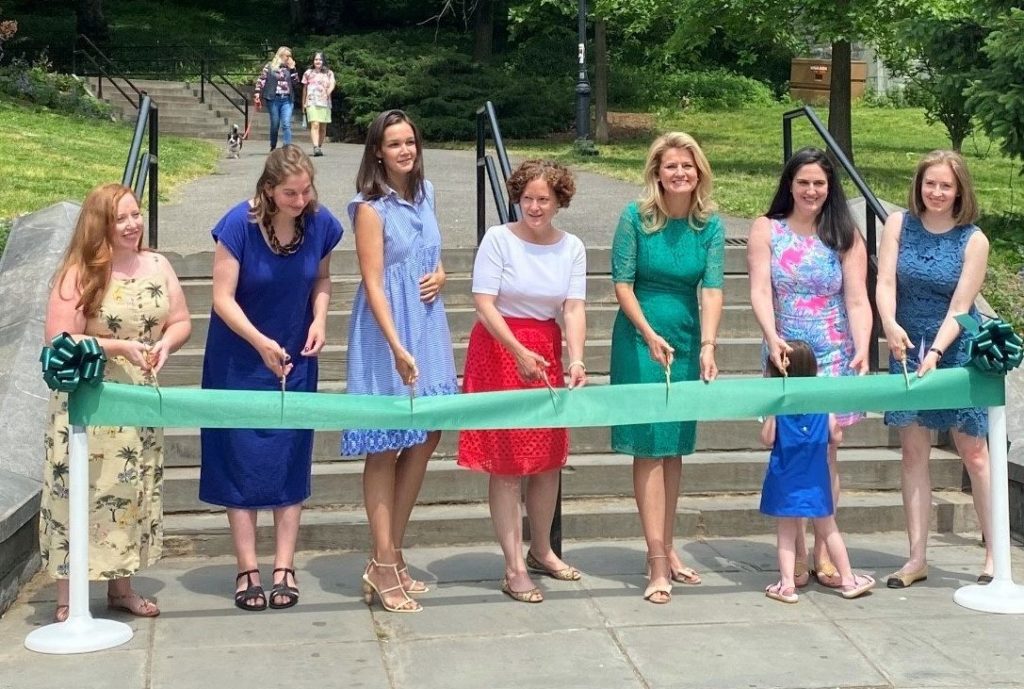 Last spring, NYJL's Playground Improvement Project (PIP) hosted a ribbon cutting at St. Nicholas Park, broadcast live on Instagram, to celebrate the completion of this year's project to beautify the park.
Throughout five weekends in April and May 2021, the PIP committee teamed up with over 150 volunteers from the NYJL, New York City Department of Parks and Recreation, friends, and family. Together, they revitalized St. Nicholas Park by cleaning, painting, redeveloping the BBQ area, gardening, and landscaping this well-loved park.
A "ribbon park" bordering Hamilton Heights, Manhattanville, and Harlem, St. Nicholas Park was created in 1895 when the City acquired the land after the close of the Croton Aqueduct. The patron saint of Amsterdam, St. Nicholas contributes his name to two of the park's surrounding streets, commemorating the Dutch farmers who settled northern Manhattan in the late seventeenth century.
On any given day, the park is home to countless activities, from workout classes on the handball court to birthday parties on the expansive green lawn. St. Nicholas Park is a home for all New Yorkers, a gathering spot, and a place to recharge. After a year of being homebound during the pandemic, now more than ever, local residents have found much-needed reprieve at this park, further demonstrating the central role NYC parks play in residents' health and well-being.
Every year since 1992, NYJL volunteers, as part of the Playground Improvement Project, have designed, planned, funded, and completed a playground or park renovation. Initially focused on local school playgrounds, the NYJL eventually forged a partnership with the NYC Parks Department to revitalize public parks. Many Manhattan parks lack funding or staff to make general improvements to gardens, benches, and playground equipment. The NYJL helps meet these needs by contributing supplies and dedicated volunteer time.
In 1995, Harlem community members and City College formed the initiative "Take Back St. Nicholas Park" and renovated the park. In 2010, the New York Junior League beautified the park and was excited to return for another round of renovations last spring.
Join the NYJL at its Homecoming on September 24! Aiming to raise funds for NYJL's community and training programs, Homecoming will celebrate the start of another volunteer year and spotlight five NYJL community committees, including the Playground Improvement Project. Learn more and purchase tickets here.