NYJL Sustaining Member Congresswoman Carolyn Maloney awarded AJLI Mary Harriman Community Leadership Award
Congratulations Congresswoman Maloney!
We are proud to share that the 2018 Mary Harriman Community Leadership Award recipient is one of our own! NYJL Sustaining member Congresswoman Carolyn Maloney made her name as a community leader in our own backyard—New York City. Congresswoman Maloney has used her experiences in both public service and the Junior League as a launching pad for policies that have helped support so many women leaders of tomorrow.
Congresswoman Maloney joined the NYJL in 1975, and in the words of President Suzanne Manning, "…is a terrific example of someone who started at the NYJL as a volunteer and really took it to the next level and the level after that." Carolyn embraces our mission and develops bills that support women because when women succeed in the world there's less violence, less terrorism, and more focus on education and healthcare.

Congresswoman Maloney was honored at this year's AJLI Annual Conference for her dedication to serving the public and identifying and addressing the challenges women face in within their communities and nationwide. Through her work in Congress and in the Junior League, Congresswoman Maloney has helped, supported, and encouraged women and inspired them to become leaders themselves.
It's never too late get involved
When Congresswoman Maloney was younger she admits that she didn't have dreams to serve in government. "I never had a plan to go to Congress or even to go into public service. When I talk to my male colleagues they say 'Well when I was two I knew I would go to Congress' and 'I'm going to be President.' They always had these huge aspirations, but sometimes women don't—until recently—have the same aspirations." Maloney believes it's never too late to get involved, and the support of the Junior League can help women develop the leadership skills they need to improve their communities.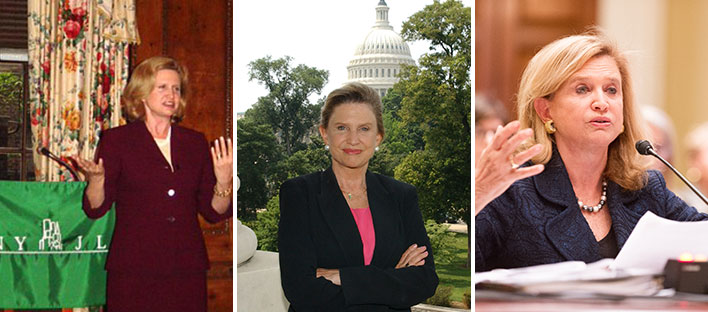 "I feel that Mary Harriman and I worked on a lot of the same issues….The League has always been an important part of my work in Congress. I can't tell you how much support means when you're trying to get something done and everyone's saying no, no, no. And then you can lean back and think 'Well I've got the Junior League supporting it. I'm not alone!' It's an outstanding organization and I'm very proud to be a member of it."
The Mary Harriman Community Leadership Award
In recognition of the vision of the founder of The Junior League, the AJLI Board of Directors established the Mary Harriman Community Leadership Award. This award honors and acknowledges an individual Junior League member whose volunteer efforts provide a contemporary link to Mary Harriman's sense of social responsibility and her ability to motivate others to share their talents through effective volunteer service. Since 1990 when the award was established, it has been given to Junior League members whose leadership exemplifies our mission, vision, and values.
If you've ever wanted to use your voice to advocate for others, we invite you to learn more about the NYJL and our advocacy work. We build community leaders, and we support women who want to serve in public office.