NYJL kicks off 2015-2016 volunteer year
The New York Junior League's 2015-2016 volunteer year is underway after a very successful 2014-2015 year. As a group, NYJL volunteers gave a record-breaking $143,446 toward the Annual Fund and more than 260,000 hours to the organization and community during the 2014-2015 volunteer year!
Three committees were recognized as Committees of the Year at the NYJL's Annual Meeting in June: Affiliation, Spotlight on Performance, and Strategic Oversight and Impact. Eight women were recognized for their exemplary service to the NYJL and the New York City community: Sustainer Service Award Winner Elizabeth Finan and Women to Watch Caroline Adams, Margaret Carril, Sarah Baker Rodriguez, DeNora Getachew, Randee Lee Ganter, Tonya Garrett, and Ashley Ma.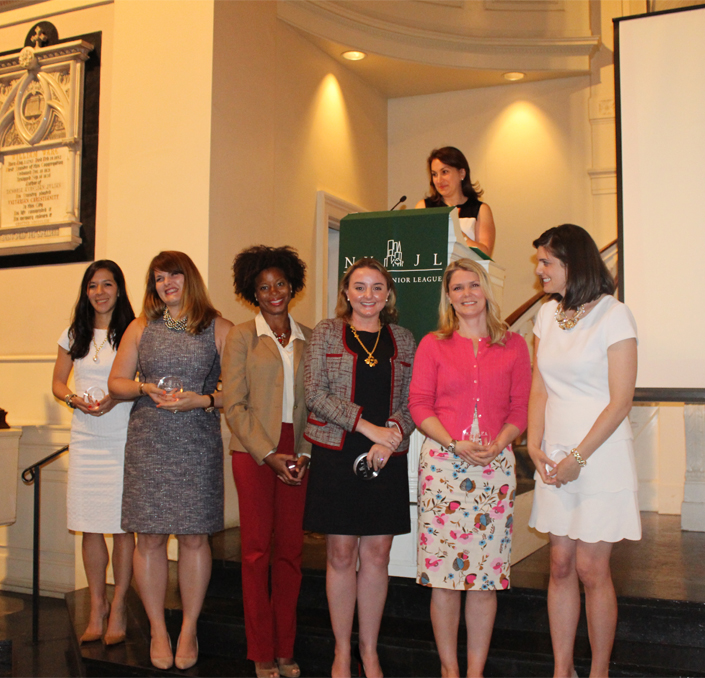 2014-2015 Women to Watch award recipients with President Stacey Lawrence Lee.
The coming year marks the launch of two new NYJL community committees: Reading Rangers and Personal Empowerment Project (PEP). Reading Rangers will collaborate with a longstanding NYJL Community Partner, Supportive Children's Advocacy Network (SCAN), and work with children ages 7 to 10 to increase their literacy awareness and reading skills. PEP will also work with SCAN, but will focus on career mentoring for high school freshman and sophomore girls. The goal of the committee is to introduce 10-20 girls to several career options and help them to understand the educational experience required to pursue each career.
Stay tuned to the News Log for an upcoming piece highlighting last year's community successes. Interested in submitting a News Log piece or an article for another publication? Use the submissions form on members.nyjl.org or reach out to publications@nyjl.org.