Life Through Another Lens: Contessa Officer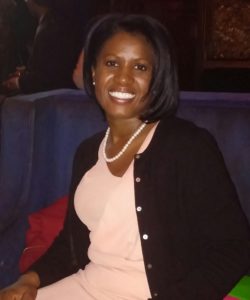 "Life Through Another Lens" brings the stories of our members, in their own words, shedding light on how we experience the world and the NYJL through different lenses, informed by our individual cultural identities.
This article has been lightly edited for clarity.
What prompted you to become a member of the New York Junior League and how long have you been a member? As an active member of my church and a long time member of Alpha Kappa Alpha Sorority Inc., I have a strong commitment to community service. When I started looking into the Junior League of the City of New York, I knew that it was the perfect opportunity to serve on one of the many wonderful committees, expand my network and gain new skills. I've been a member since 2012 and it's been one of the best decisions I've ever made.

How do you identify yourself? I identify as an American, a Black Woman, and a Veteran.
Would you share a specific story or anecdote related to your experience in the NYJL, and how your identity might have informed that experience? I'm not sure why, but I have often found other members just staring at me across the room or across the table and I've experienced this at my jobs where I'm the only Black person or woman in the room. Perhaps it's that I'm having a bad hair day (possibly) and they are picking up on that, or maybe it's because I'm so stunning (I doubt it) whatever it is, it happens a lot and I just keep it moving. I'm used to being in the minority and it has made me stronger because I don't care that much and I always meet like minded women who see me as just another female who might actually be cool to get to know.
How welcoming has Astor House been to you? The Astor House has been like a second home to me and I know many others who feel the same. I've spent a lot of time working to plan and implement programs in this beautiful historic space and of course engaged in some good old fashioned socializing in the Pine Room. I have always felt the majority of members were courteous towards me, just as they would be towards anyone else. I was taught not to assume the worst of people and to not be too quick to assume other people's motives. This is my League and I just don't have the time or the interest to give energy to anyone who might think otherwise.
What would you want your fellow NYJL members to know about your personal experience as a Black woman? The only thing I would want my fellow League members to know is that as human beings, I don't think you can really be sincere in your service to others if you harbor prejudices in your heart and don't deal with it. That's what I know as a Black woman and that's what I hope those who choose to serve others will embrace and always strive for.