CHEF 'On-the-Go' Kits make a long-Lasting impact
New York Junior League's (NYJL) Cooking and Health Education for Families (CHEF) committee celebrated National Nutrition Month by presenting new 'On-the-Go Kits' to community partners. The kits, which include everything from a blender and toaster oven to utensils and a cutting board, make it possible for CHEF to offer cooking workshops at locations without kitchens. Kits also include NYJL-branded chef hats, aprons, and the official CHEF Cookbook, featuring healthy recipes.
The CHEF committee demonstrated passion and perseverance while collecting the data necessary to demonstrate how this program expansion idea would better the community by improving access opportunities for children and families to make healthy choices. The data helped the committee secure a grant from Kashi to jumpstart the On-the-Go Kits effort. The grant, coupled with a generous donation from Williams Sonoma, allowed CHEF to purchase supplies to outfit the kits.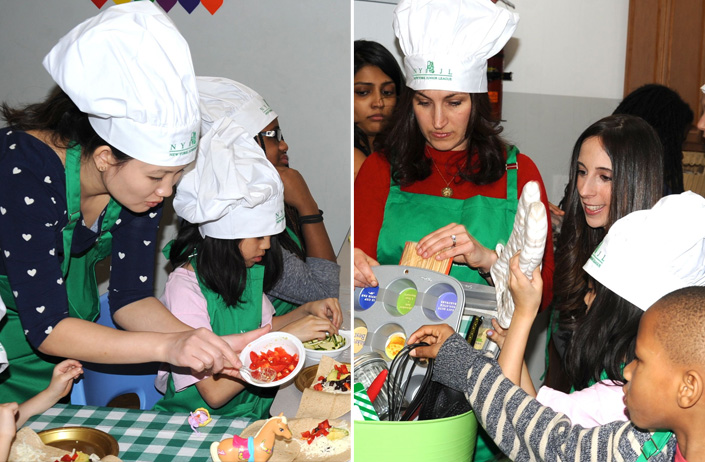 On March 12, NYJL President Stacey Lawrence Lee, Community Senior Council Head Jana Beauchamp, Child Health and Welfare Council Head Shelby Spears, committee founder Laura Matiz, CHEF Co-Chair Marissa Vicario and several members of the CHEF committee visited East River Shelter to present the first of ten kits. The residents were thrilled to receive the kits and were excited to have access to essential kitchen supplies that will allow them to re-create the healthy recipes they learn during CHEF's workshops.
"The NYJL CHEF program has been one of the most consistent and exciting programs for our families in East Harlem, providing our residents with access to information about nutrition and cooking," said Alyssa Montoya, Director of Volunteer Services at Women In Need, Inc. (WIN). "We are grateful to receive the On-The-Go Kits which will help families eat well while in shelter!"