Advocacy is not Just an Uphill Battle, APP Sees the Rewards!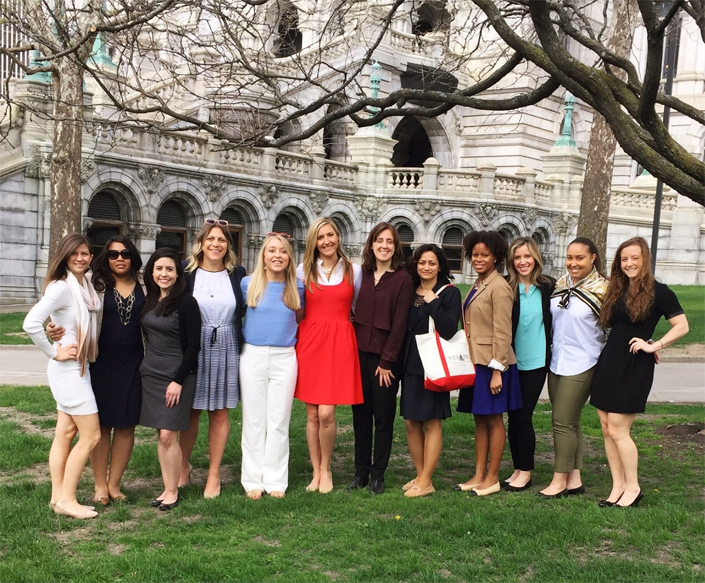 As the New York Junior League's 2014-2015 program year draws to a close, it is a good time to reflect on and take stock of all that the Advocates for Public Policy committee (APP) has accomplished.  Advocacy takes a collective voice and the committee would not have been as successful without the committed volunteers, guidance from community members and elected officials, and the support of the entire NYJL. APP was able to build on the momentum of years past to raise awareness about important issues facing not only our community but the entire state of New York.
In October 2014, in honor of Domestic Violence Awareness Month, APP met with Tracy Weber, Acting Deputy Commissioner & Chief of Staff at the Mayor's Office to Combat Domestic Violence and Hannah Pennington, Executive Director of Manhattan Family Justice Center to learn more about the office's work to raise awareness about and combat domestic violence. One way they provide these much-needed services is through the four Family Justice Centers, which are walk-in centers for victims of domestic violence, elder abuse, and sex trafficking.  As a follow up, on March 25, members of APP and representatives of Community Program Research committee visited the Manhattan Family Justice Center to explore ways the NYJL can support the work of the center and help raise awareness about domestic violence.
At the state level, representatives from the NYJL attended the New York State Public Affairs Committee (NYSPAC) Fall Conference on November 8. Leagues in attendance statewide voted to support and focus advocacy efforts on passing the Trafficking Victims Protection and Justice Act (TVPJA), which will enhance protection for sex trafficking victims and increase accountability for those who traffic victims.  In order to educate our volunteers about the importance of human trafficking, APP co-sponsored a VTL on March 16 bringing together a human trafficking survivor, non-profit advocates, and members of the judiciary system to share their stories and efforts to stop what is estimated as a $32 billion global industry. Ironically, earlier that day APP members traveled to Albany to witness the Assembly pass the TVPJA. This was a huge victory for the NYJL and its allies. The NYJL's efforts were even mentioned in Assemblywoman Amy Paulin's blog post from March 23.  The TVPJA is pending Governor Cuomo's signature.
APP is now focusing its state advocacy efforts on the Paid Family Leave Act ("PFLA").  This vital legislation, which already passed the New York State Assembly, would modernize New York's Temporary Disability Insurance (TDI) program to allow for up to 12 weeks of paid lead to allow an employee to care for an ill family member, maternity or paternity leave, adoption-related leave, or leave related to a family member's military service. "APP supports The Paid Family Leave Insurance Act because it would provide 88% currently unprotected New Yorkers with some form of paid maternity or family leave from their employers to allow for a multitude of family caregiving purposes," said Sara Kern, NYSPAC Co-Chair.
On May 5, APP traveled to Albany for their annual spring advocacy day to show support for the PFLA.  While in Albany, APP held successful meetings with12 Senators to discuss the bill and urge them to pass it in the Senate.  DeNora Getachew, co-chair of APP said, "Albany Advocacy day is such an impactful day for many reasons. Most importantly, it brings APP volunteers' yearlong training to life and why our efforts to protect women, families and children matter."
This is just a snapshot of APP's 2014-2015 year! APP could not have achieved these victories without the work of their committee volunteers and support of the NYJL volunteers and Board. Advocacy can seem like an uphill battle at times, but the lesson learned this year is that when we all work together we can have such a long lasting impact and effectuate real change. This year was filled with great achievement and meaningful strides forward for APP. The committee is grateful for the NYJL's support and ability to give a voice to so many in need consistent with our mission.