FALL 2021 ARCHITECTURE WALKING TOUR: SKYSCRAPERS OF PARK AVENUE
Welcome to the Skyscrapers of Park Avenue!
Welcome to the Midtown Design District (or Midtown East as it is more commonly known!). The Midtown Design District is a commercial hub in Manhattan and home to some of the city's most iconic architecture – from Gothic to Postmodernism and from Beaux-Arts to Art Deco its buildings deliver a sense of gravitas and wow factor. You will certainly sense it in the range of architectural styles we'll talk about today.
We're excited to have you as part of the tour today. Get ready—you're about to appreciate the Midtown Design District in a way you never have before! Thank you so much for being here with us.
Download the Skyscrapers of Park Avenue Tour Map
---

1.  Champagne at Kate Spade
610 5th Avenue, Space C
Between 48th St & 49th St
They are offering a 15% discount with a kickback to the NYJL from 11 am – 4 pm.
---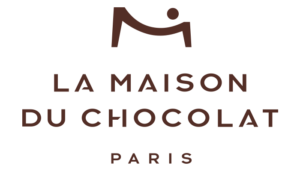 2. Champagne Stop at La Maison du Chocolat
30 West 49th Street
Between 5th Ave & 6th Ave
Enjoy a 10% discount with a giveback to the NYJL from 11 am – 4 pm.
---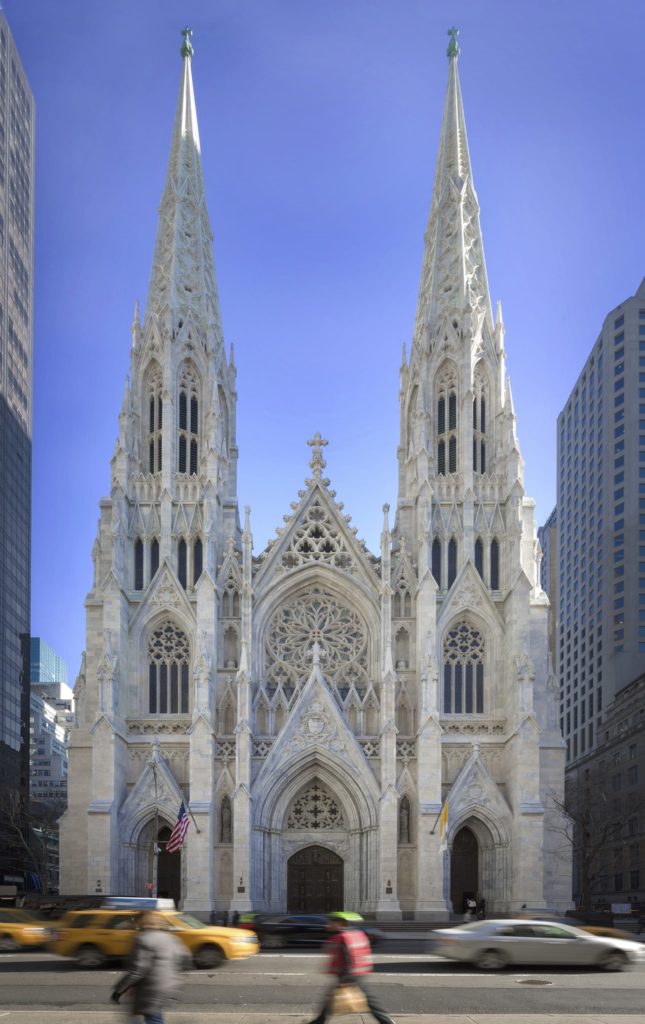 3.  St. Patrick's Cathedral
5th Avenue
Between E. 50th St & E. 51st St
A Catholic cathedral in the Midtown Manhattan neighborhood of New York City. It is the seat of the Archbishop of New York. The cathedral occupies a city block bounded by Fifth Avenue, Madison Avenue, 50th Street, and 51st Street, directly across from Rockefeller Center. Designed by James Renwick Jr., it is the largest Gothic Revival Catholic cathedral in North America.
---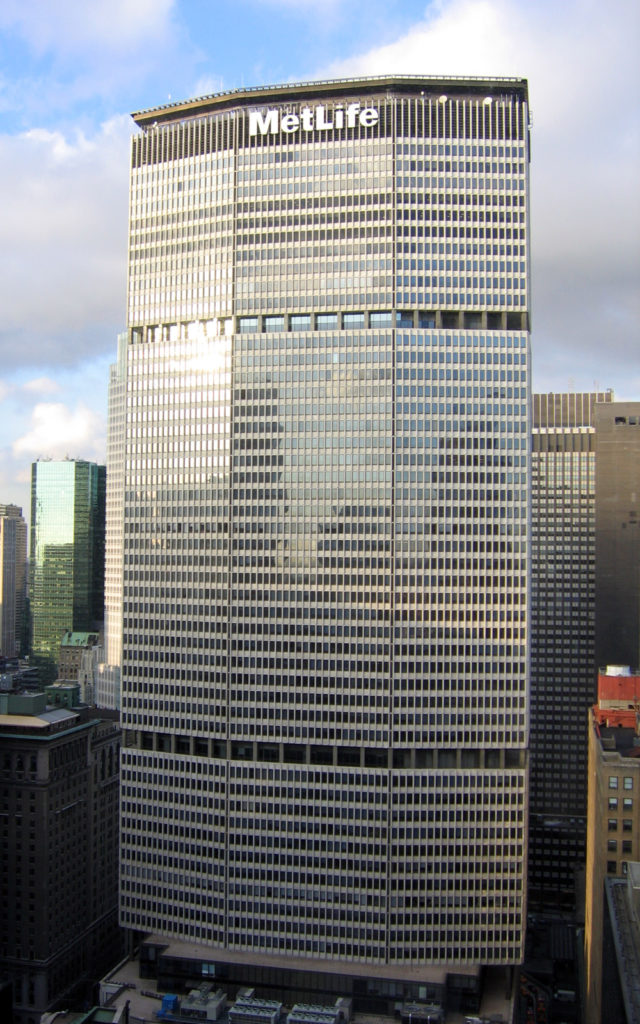 4.  MetLife Building
200 Park Avenue
Look South on Park Ave
Designed in the International style by Richard Roth, Walter Gropius, and Pietro Belluschi, the MetLife Building is 808 feet tall with 59 stories.
---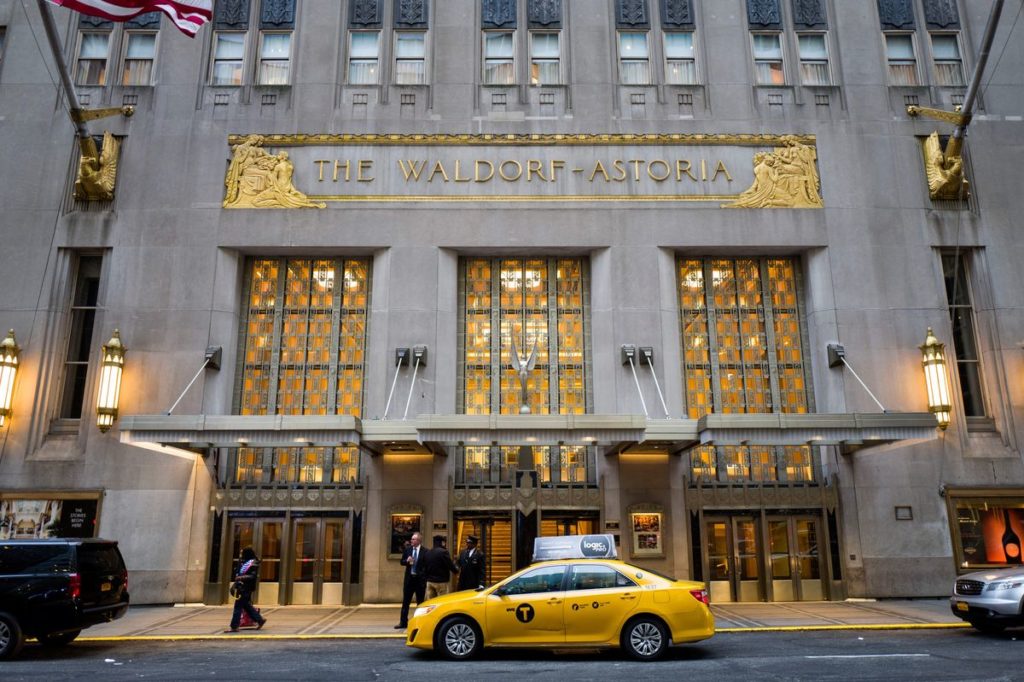 5. Waldorf Astoria New York
301 Park Avenue
Between 49th St & 50th St
The structure is a 47-story Art Deco landmark designed by architects Schultze and Weaver, which was completed in 1931. The building was the world's tallest hotel from 1931 until 1963 when it was surpassed by Moscow's Hotel Ukraina.
---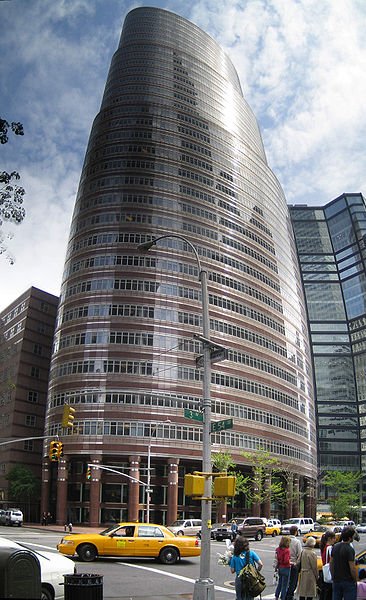 6. Lipstick Building
885 Third Avenue
Between 53rd St & 54th St
The building was designed by John Burgee Architects with Philip Johnson. The building receives its name from its shape and color, which resembles a tube of lipstick.
---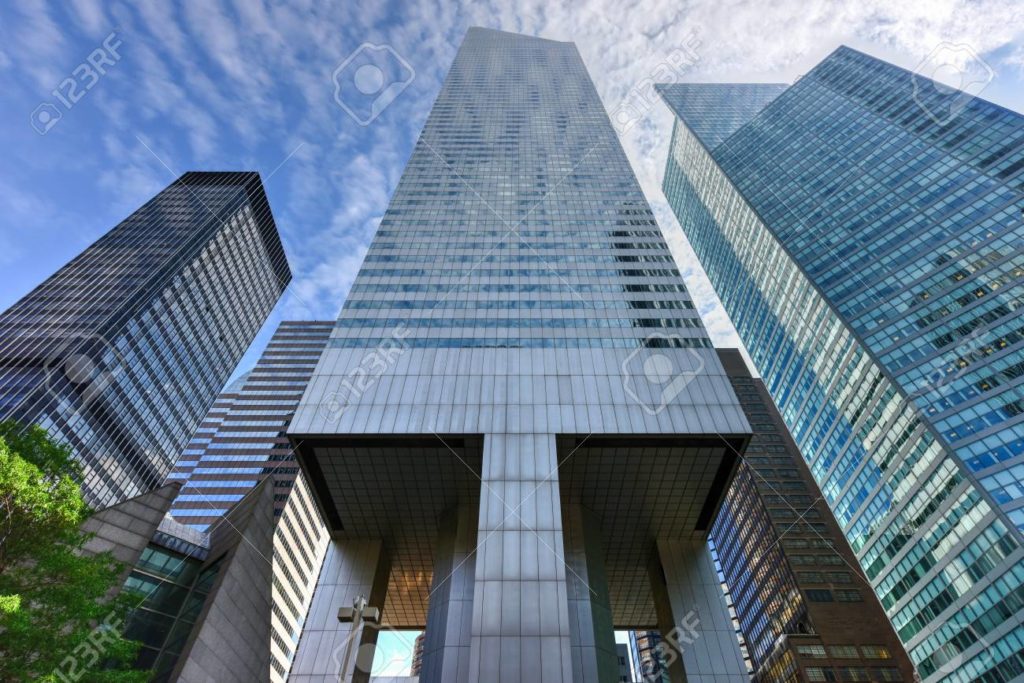 7. Citigroup Center
601 Lexington Avenue
Between 53rd St. & 54th St.
The Citigroup Center is an office skyscraper in the Midtown Manhattan neighborhood. It was built in 1977 to house the headquarters of Citibank.
---
8. Seagram Building
375 Park Avenue
Between 52nd St & 53rd St.
Designed in the International Style by Ludwig Mies van der Rohe, Philip Johnson, Ely Jacques Kahn, and Robert Allan Jacobs, the building was completed in 1958. It initially contained the headquarters of the Seagram Company, a Canadian distiller. It is one of the most notable examples of the functionalist aesthetic and a prominent instance of corporate modern architecture.
---
9. Racquet & Tennis Club
370 Park Avenue
Between 52nd St & 53rd St.
The Racquet and Tennis Club, familiarly known as the R&T, is a private social and athletic club.
---
10. Casa Lever
390 Park Ave
Between E. 53rd & E. 54th St.
Lever House is a glass-box skyscraper designed in the International Style by Gordon Bunshaft and Natalie de Blois of Skidmore, Owings, and Merrill as the headquarters of soap company Lever Brothers, a subsidiary of Unilever.
---
11.  Champagne at de Gournay
243 E. 59th Street
Between 2nd Ave & 3rd Ave
Enjoy champagne and light bites from 11 am – 4 pm.
---
12.  D&D Building
979 3rd Avenue
Between E. 58 & E. 59th St
Known nationally and internationally since 1965 as the world's most important home to over 100+ showrooms, the DDB represents over 3,000 leading manufacturers dedicated to the very best in residential and business interior furnishings, educational opportunities, and resource information.
---
13.  Bloomberg Building 
71 Lexington Avenue
Between E. 58 & 59th St
731 Lexington Avenue is a 1,345,489 sq ft mixed-use glass skyscraper on Lexington Avenue, on the East Side of Midtown Manhattan, New York City. Opened in 2004, it houses the headquarters of Bloomberg L.P. and as a result, is sometimes referred to informally as Bloomberg Tower.
---
14.  Ritz Tower
465 Park Ave
Between E. 57th St & 58th St
The Ritz Tower is a luxury residential building. It was built from 1925 to 1926 as an apartment hotel and was designed by Emery Roth and Thomas Hastings for the journalist Arthur Brisbane, who was the developer.
---
15.  Lunch at Le Botaniste 
833 Lexington Avenue
Between E 63rd St & E 64th St
Enjoy a free lemonade or iced tea with purchase from 11 am – 4 pm