LIFE THROUGH ANOTHER LENS: RUTH ZAPATA
"Life Through Another Lens" features stories of NYJL members, in their own words, to shed light on how we experience the world and the NYJL through different lenses informed by our individual identities. In this edition, NYJL member Ruth Zapata shares her story as a mother, Latina, and passionate service-oriented New Yorker. This article has been lightly edited for clarity.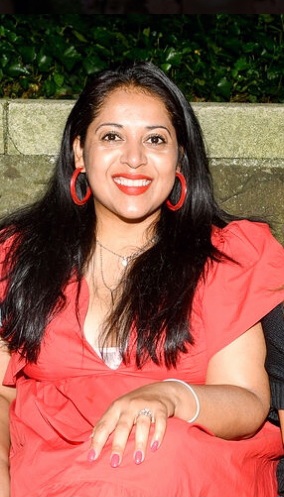 Tell me about yourself. What were you like as a child? 
I grew up in Michigan and have been in New York for about 15 years. I love hiking and have always been interested in nature. Growing up in the midwest, I was always eager for a day on the lake. Volunteerism and service first became really important to me during college, and I met my husband – a native New Yorker – at Michigan State. This is what ultimately brought me to call New York City home.
What initially drew you to the New York Junior League, and what are some of your earliest memories from the League? 
From the first time hearing about the League, I liked the organization's philosophy when it came to service. I also had a few friends who were already members, and this drew me to join. I was excited about the prospect of volunteering, engaging in the community, and meeting new people, and being a provisional was a really fun time. I remember being able to connect with my fellow provisionals from day one as we stumbled through learning NYJL history, and I remember the excitement of the neighborhood tour in the Lower East Side, where we learned about the League's roots. Today, I am still friends with several of my fellow provisional class members, and currently serving as  Provisional Leader myself. 
What would you say are some of the core aspects of your identity today?
I am a Millennial, progressive, inclusive mother. I try to keep volunteerism and community at the heart of my involvement with the League. My identity has helped me understand the need for NYJL members to fully understand the scope of our membership. For example, I was not a mother when I first joined the League, but now I am a mother, so I can see gaps where we can make programming more inclusive for everyone (such as selecting inclusive meeting times). Being a Latina also helps me understand a different way of thinking and being sensitive to those with different backgrounds. 
This Fall will mark the end of my first year as a Provisional Leader! I continue to build on my passion for DEI by sub-chairing the Women of Color Affinity group and continuing on the awesome work already started. I want to make sure that we as an organization understand that inclusion means so much more than having women from other countries or particular ethnic backgrounds. We are an evolving and diverse group of New Yorkers, and from new mothers to individuals working in unique fields to different ability levels, diversity and inclusion means so much more than just race and ethnicity. 
What advice would you impart to new or potential New York Junior League members? 
Stay curious! There are so many amazing committees to get involved with, and you are bound to learn new ways to give back to the community and to develop yourself. 
Bring your authentic self and help shape the future of the League.
READ MORE PROFILES FROM OUR LIFE THROUGH ANOTHER LENS SERIES