Fall House Tour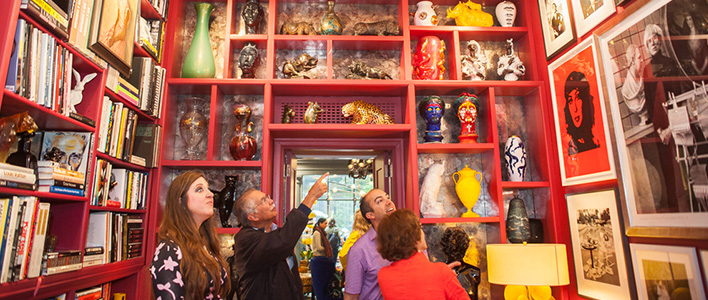 2019 Fall House Tour
October 26, 2019
The bi-annual tours, held each spring and fall, are a celebration of architecture and interior design, and a rare opportunity to explore the interiors of New York City's most beautiful private homes. All are invited to attend.
The Fall House Tour commences on Friday evening, October 25, 2019, with a kick-off party, and continues on Saturday, October 26, 2019, with a complimentary breakfast at the Astor House, a luncheon, champagne stops along the route, a post-tour reception, and a silent auction. The tour is self-guided across several neighborhoods of Manhattan.
Previous tours have featured Jamie Drake, Garrow Kedigian, Amanda Saiontz Gluck, Robert Couturier, Barbara Littman, Scott Salvator, Hunt Slonem, Betty Wasserman, Vicente Wolf, and other design luminaries.
Check out highlights from our last Fall House Tour on October 27, 2018.
ATTEND
Fall House Tour Schedule of Events
Friday, October 25 • Kick-Off Party (exact times and location TBA)
Saturday, October 26
9:00 a.m.–9:30 a.m. • VIP Registration & Breakfast at the Astor House
10:00 a.m.–12:00 p.m. • General Registration & Breakfast at the Astor House
10:30 a.m.–4:00 p.m. • Homes and Champagne Stops Open
12:30 p.m.–2:30 p.m. • General Admission Lunch (location TBA)
4:00 p.m.–6:00 p.m. • Post-Tour Cocktail Reception (location TBA)
VIP guests will receive a private communication regarding event schedules and location in the week preceding the event.  All VIP cars depart from the Astor House.
General Admission NYJL Member Ticket Purchase Tickets

$100 • Limit 2 per member.

$115

$250 • Advance Purchase Only. VIP ticketholders enjoy reserved black car service, an extended program with Champagne breakfast, exclusive access to a VIP home and private VIP luncheon, and a deluxe gift bag featuring elegant home goods from our event supporters.

Deluxe VIP

The Deluxe VIP experience allows you to reserve all four seats in a town car OR six seats in an SUV, and travel in style with up to three or five additional guests of your own choosing.  Each Deluxe VIP car receives one Deluxe Pass which grants your group priority access (skipping the line) at a single home.  Each Deluxe VIP car will also enjoy complimentary bottles of champagne and sparkling water, a snack pack, and preferred route selection for the day.

$1,200 • Deluxe VIP Sedan (Four Guests Max.) Purchase Sedan
$1,800 • Deluxe VIP SUV (Six Guests Max.) Purchase SUV


JOURNAL
Support the Fall House Tour and highlight your brand by purchasing an ad in our journal! The House Tour journal is distributed to all 500+ attendees and features the event program, profiles of our included homes and designers, and ads for design services, architects and others. Please contact homedesign@nyjl.org if interested, or view our 2018 Fall House Tour Journal here. Download Journal
.

| | | |
| --- | --- | --- |
| Ad Size | Pricing | Order |
| Full page color (back outside cover) | $2,000 | Contact Us |
| Two-page color centerfold | $1,500 | Contact Us |
| Full page color (front/back inside cover) | $1,500 | Contact Us |
| Full page color (inside) | $1,000 | Purchase Ad |
| Half page color horizontal (inside) | $500 | Purchase Ad |
| Quarter page color vertical (inside) | $250 | Purchase Ad |
2019 Spring House Tour Sponsors and Donors