Support Team NYJL!
This Sunday, November 1, a group of 15 NYJL volunteers will run the TCS New York City Marathon in support of the New York Junior League! These women have committed to training for the 26.2-mile journey while raising funds to support the NYJL. Team NYJL has a collective fundraising goal of $59,000 – all of which will support the charitable activities of the NYJL. During the next few days, we will be showcasing these incredible women and sharing a little bit more about each of them.

SUPPORT REGAN

SUPPORT SARAH
Regan Huneycutt, Director of Development
"Being a member of and working so closely with Team NYJL has brought me so much personal and professional satisfaction. Seeing these runners dedicate themselves to both fundraising and training, and watching them accomplish their goals throughout this journey has been such a joy. I am so proud of this team, our collective commitment to supporting the mission of the NYJL and the entire membership who has supported us every step of the way!"
Sarah DeStefano, Active
Astor House Events Committee
"I'm again reminded that I have amazing friends and family who have been so supportive, both in cheering on my training and in donating to the cause. Being a member of Team NYJL hasn't really changed my feelings toward the NYJL as I have been proud to be a member and enthused about our efforts, but because of this experience, I feel more connected to the League, its mission, and its members."

SUPPORT KELSEY

SUPPORT ASTRID
Kelsey Bishop, Active
Crisis Intervention committee
"I am so proud of myself and my teammates for working hard every day to complete this goal and so thankful we are all here to support each other! Through this journey I have learned how important supporting one another is, the impact we have on each other, and how hard work really does pay off."
Astrid Tvetenstrand, Active
Specialty Events committee
"I'm looking forward to rocking an NYJL shirt through all the boroughs. I'm really proud to be representing the NYJL during the marathon. Also, I'm so excited for the general enthusiasm that comes with the day."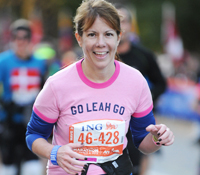 SUPPORT LEAH
Leah Wenger, Active
Support Senior Council Head
"New York City Marathon + NYJL Teammates = Miles and Smiles!!"
In addition to making cash gifts to these runner's individual fundraising campaigns, NYJL volunteers are encouraged to support Team NYJL in the following ways:
Team NYJL Celebratory Brunch
Join us on Saturday, October 31 from 11:00 a.m. to 1:00 p.m. at the NYJL's Astor House for a celebratory marathon send-off brunch. President Stacey Lawrence Lee will recognize each of the runners for their dedication to this important fundraising campaign and Team NYJL Run Coach Jess Underhill will highlight the team's commitment to training for one of the world's premier marathons. Tickets for the October 31 marathon celebration brunch are still available for $35 and include a complimentary welcome bloody mary or mimosa. This event is open to all NYJL volunteers along with their friends and family.
Team NYJL Cheer Stations
The runners look forward to seeing NYJL volunteers at three cheer stations this Sunday. Please sign up to cheer and receive membership credit:
Brooklyn: between Mile 7 and Mile 8 at 4th Avenue and Union Street.
Long Island City: near Mile 14 across from the Citi Building.
Harlem: Mile 22 at the northwest corner of Marcus Garvey Park.
All cheer station volunteers will be sent an email with detailed information on cheer station locations, a Team NYJL Lookbook complete with the runners' photos and the estimated times that the runners will pass by each cheer station. Team NYJL runners will be wearing a white shirt with the green NYJL logo on the front. Many thanks to the Junior Junior League and Affiliation committees for making signs for our cheer stations.
Our Team NYJL runners have taken on a huge commitment – training for and running a marathon in addition to fundraising for our beloved NYJL. Thank you for showing your support!