Nonprofit Board Education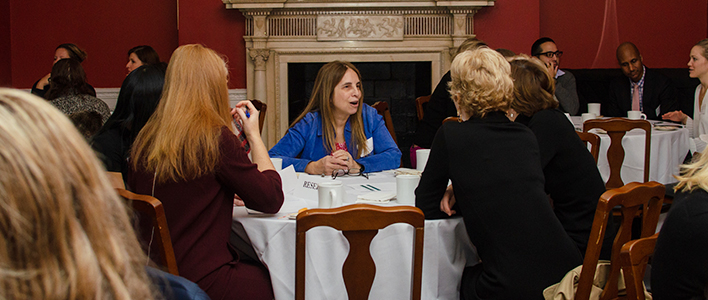 As one of the oldest volunteer organizations in New York City, the New York Junior League has more than 115 years of experience in program development and implementation, volunteer management and engagement, community organizing, leadership development, advocacy training, and nonprofit management. Since 1901, we tackle society's most pressing issues, addressing and acting as advocates on critical issues including human trafficking, foster care, juvenile justice, teen self-esteem, literacy, and others.
We do this work in partnership with you—working side-by-side with a diverse range of New York City's small to mid-size nonprofit and community-based organizations. We've made programming, growth, and effectiveness possible for organizations including Women's Prison Association, Avenues for Justice, Win, the Isaacs Center, and SCAN New York to name a few.
In addition to working on a programmatic level, we also teach nonprofits best practices and share what we've learned from years of working with our community of organizations and clients. We do this through our Nonprofit Board Education workshops and our Nonprofit Intensives.
For updates on future Nonprofit Education and Training opportunities, please join our mailing list.
Upcoming Workshops
Please check again in September 2019 for a list of upcoming workshops. 
Past Workshops
Brand Management: Digital Marketing & Storytelling for Nonprofits

Thursday, May 30 • 7:00–9:00 p.m.
The Astor House
Are your marketing campaigns telling the story of your nonprofit? In this session, you will learn the power of storytelling to create impact through marketing campaigns that connect with the audience and move people to donate, volunteer, or sponsor. Participants will analyze case studies to deconstruct what makes a memorable story and learn how to tell engaging stories.

Speakers:

Tara Rae Bradford, Founder and Guest Lecturer, Rae Media Group and Fordham School of Business
Eduardo Placer, Founder and CEO, Fearless Communicators
Elana Margulies-Snyderman, Senior Manager of Publications with EisnerAmper's Marketing Group and Co-Founder and Secretary of Board of Directors, Phyt Cares

Technology Talk: Data Security in the Nonprofit Environment

Monday, May 13 • 7:00–9:00 p.m.
The Astor House
Learn how data security best practices can help secure the future of your nonprofit's data and online presence. Matthew Kaufman, an Information Security Officer at Mizuho, who will share actions nonprofits can take to protect valuable information. Risk management experts Lena Licata and Rhina Brito from EisnerAmper will present information on how to perform a risk assessment and how to handle a breach.

Speakers:

Matthew Kaufman, Information Security Officer, Mizuho
Lena Licata, Director, Process Risk and Technology Solutions, EisnerAmper
Rhina Brito, Senior Accountant, Process Risk and Technology Solutions, EisnerAmper
Stakeholder Engagement in the Strategic Planning Process

Wednesday, April 17 • 7:00–9:00 p.m.
The Astor House
Evaluating the strength of stakeholder engagement is critical for advancing your nonprofit's mission. Our panel of nonprofit leaders and development directors will discuss how to make stakeholder engagement a part of your organization's strategic planning process. We will discuss how to develop effective engagement strategies for donors, board members, and volunteers.

Speakers:
What to Know Before Joining a Nonprofit Board

Tuesday, February 12 • 7:00 p.m.
The Astor House

What You'll Learn

In this workshop, learn about the nonprofit board placement process and what to expect once you've joined a nonprofit board. In this panel discussion, current nonprofit board members share experiences from their first few years serving on a nonprofit board and answer your questions about how to get involved in nonprofit board service.

Who You'll Hear From




DeNora Getachew is the Executive Director of Generation Citizen New York City. DeNora is an alumni of John Jay College of Criminal Justice and Fordham University School of Law. A lawyer by training, DeNora has advocated for structural and participatory reforms to our democracy, as well as education and policy reform throughout her career.
She cut her teeth working on local democracy and government reform for former New York City Council Speaker Christine Quinn. DeNora has also worked at state good government organization Citizens Union, as Policy Director for then-Public Advocate Bill de Blasio, and most recently as Campaign Manager & Legislative Counsel at the Brennan Center for Justice at NYU School of Law.

DeNora has contributed to the New York Times' City blog, Huffington Post, the Des Moines Register, Medium, Newsday, and Gotham Gazette. DeNora serves on the board of Planned Parenthood NYC Votes and the New York Junior League. She is a member of the Greater New York Chapter of The Links, Incorporated, and the Metropolitan Chapter of Jack and Jill of America, Incorporated. She was a fellow with the Council of Urban Professionals in 2011, and honored as a 40 under 40 by The Network Journal in 2015.

DeNora is currently serving as an At-Large Director for the New York Junior League's Board of Directors.




Susan Stix Fisher is participating this evening as the Director of Community Outreach for BoardAssist, New York's leading personalized nonprofit board matching service and a nonprofit themselves. Over the last 20 years, BoardAssist has brought nearly $100M into the nonprofit community. BoardAssist offers their board candidates hundreds of board choices in every interest areas from the environment and arts to education and social services all at no cost to their candidates. Ms. Fisher graduated from Duke University and worked in the fields of financial planning software and Wall Street equity sales before founding her own import-export company that manufactured women's travel accessories in Vietnam and China. She has worked as both a volunteer and/or board member in a wide variety of nonprofits including The I Have A Dream Foundation, Metropolitan Hospital's Auxiliary, Boys & Girls Harbor, BUILD NYC, iPalpiti Artists International, Project Cicero, and the New York Junior League.




George Suttles supports Commonfund's educational, market research, and professional development activities as Director of Research of Commonfund Institute. He also serves as a member of the Commonfund Diversity and Inclusion Office. Prior to joining Commonfund, George was a Program Officer at the John A. Hartford Foundation, an independent, national private foundation focused on improving care for older adults. Before joining the foundation, he was a Vice President, Senior Philanthropic Relationship Manager at U.S. Trust/Bank of America. In this role, he worked with private and institutional clients on issues related to best practices in strategic grantmaking. Throughout his career, George has supported the philanthropic activities of leading nonprofits with a focus on healthcare and related missions. He is also a member of numerous nonprofit boards, including Odyssey House, Drive Change, and the Support Center for Nonprofit Management. Currently, he is on the Adjunct Faculty at the New York University (NYU) School of Professional Studies. George received a B.A. from Wesleyan University, an M.A. in Philanthropic Studies from Indiana University Lilly Family School of Philanthropy (IUPUI) and an M.P.A. from Baruch CUNY School of Public Affairs.




Alecia Wesner has been part of the JDRF family since her diagnosis with T1D in 1979. Although her commitment to the JDRF Walk started at an early age, it was reinvigorated in 2001 when she founded Alecia's Stem Cells, a family and friends Walk team that raised over $300,000 at fifteen Walks across the country.

In 2015, Alecia joined the JDRF Ride program. Although determined to complete the 100 mile ride in Burlington, the perfect storm of diabetes-related issues took her off the course early. Not one to give up, Alecia continued and rode all 104 miles of El Tour de Tucson a few months later. She has since completed JDRF Rides in Amelia Island and Saratoga Springs (twice).

Alecia has spoken at hospitals, medical schools, JDRF Galas, TypeOneNation Summits, on TV, and for a variety of Artificial Pancreas press coverage. She has presented her experiences as a clinical trial participant to the NIH and the FDA. On behalf of both JDRF and Mount Sinai Hospital New York, she has spoken about her experience living with T1D for (almost) 39 years, the importance for advancing and funding diabetes technologies and research, and diabetes advocacy. Since 2014, Alecia has participated in five Artificial Pancreas trials held at Mt. Sinai Hospital in NYC and chronicled her experience for JDRF's TypeOneNation.org, ASweetLife.com, and CNN. She has also participated in an implantable CGM clinical trial and a complication prevention trial at The Joslin Center.

Alecia is president and managing-partner of Kovacs-Wesner Design Group, licensor of George Kovacs Lighting since 2002. Her work can be found in homes, hotels, and contract applications throughout the world. In 2006, Alecia founded Alecia Wesner Jewelry which serves as inspiration for many of her lighting designs with 10% of the proceeds donated to JDRF.

Moderator: Erika Stallings, Nonprofit Education and Training, co-chair