Meet Team NYJL 2017: Part 3
By now, you may have heard… we are very excited to be sponsoring a charity running team in the 2017 TCS New York City Marathon! Months ago, thirteen amazing women stepped up to the dual challenge of training for this grueling 26.2 mile race while raising money for the New York Junior League. On November 5, all their hours of preparation and inspiration will come together, as they put on their Team NYJL jerseys and hit the streets.
For the past few weeks, we've been introducing you to the members of this incredible team. Our final group of runners is featured below.
Team NYJL has committed to raising $55,000 and every dollar will support the charitable activities of the NYJL. The team has been reaching out to their friends, families, colleagues, and employers for donations. Latest tallies show they are nearing the halfway point on the way to their collective goal. Your support, whatever you can give, will help them finish strong!
---
Cierra Billings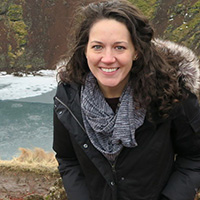 SUPPORT CIERRA
Cierra is excited to be fundraising for the NYJL in what will be her first-ever marathon. "I am proud to be a member of a strong organization that empowers women and whose impact reaches varied groups of people," she says. Originally from Edgewater, Maryland, Cierra now lives in Hoboken and volunteers on the CHEF (Cooking and Health Education for Families) committee. Preparing for a marathon involves many, many practice runs – something Cierra truly enjoys. "I can either jam-out to my favorite songs or just be with my own thoughts. And I always seem to think more clearly while running."
Sarah DeStefano
SUPPORT SARAH
Sarah grew up in Woodstock, NY, wearing her dad's old race shirts. "He ran the NYC Marathon twice, so it's something I've always wanted to do," she says. A member of our inaugural 2015 Team NYJL, she now co-chairs the Astor House Events committee. Sarah describes running as "almost a meditative experience…it's also addicting since there's always another goal one can achieve, which is great practice for other life goals too." On weekends, you'll find her out in the supportive Central Park running community. She experiences a similar camaraderie on Team NYJL. "They give me a purpose to keep running and a community to support and cheer me onward!"
Annie Read
SUPPORT ANNIE
Active on the Performance of a Lifetime committee, Annie turned to marathon-ing only two years ago. In her very first attempt (the NYC Marathon in 2015), she finished strong and qualified for the prestigious Boston Marathon. A former lacrosse goalie in college, Annie has found that running pushes her to become a better athlete. It also keeps her in close touch with friends and family who come out to support her runs. Clearly looking forward to Marathon Sunday, she says, "The experience is a special, unique journey that allows you to harness the energy of NYC while working toward a personal goal. The crowds are electric and invigorating!"
Leah Wenger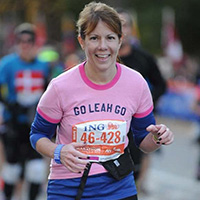 SUPPORT LEAH
Leah is another runner who was on our first team in 2015 —and couldn't stay away. She grew up in Syracuse, NY, and now calls the Upper West Side her home. Currently a member of the Provisional Training committee, Leah is thrilled to be taking on her seventh NYC Marathon. "Running makes the impossible seem possible," she says. "When I first started, three or four miles seemed like a long way. Now, that's shorter than my short runs!" Leah has a long list of reasons why she runs, and one especially that we can relate to: "Running makes me happy and allows me to eat whatever I want! What's not to love?"