Urgent: Help us collect more holiday gifts for children in homeless shelters by December 23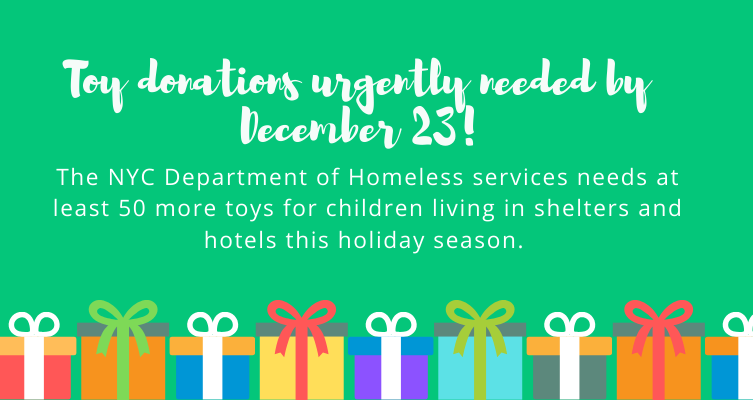 More than 22,000 children in New York City are homeless this holiday season.
Every year, NYC's Department of Homeless Services (DHS), the Coalition for the Homeless, and other organizations mobilize a massive drive to collect and deliver gifts to every single child living in a shelter or hotel over the holidays.
To make sure every child receives a gift, the NYJL is partnering with the NYC Department of Homeless Services (DHS) to help collect 50 urgently needed toys by close of business on Monday, December 23. New toys should be delivered directly to Astor House (130 E 80th St, New York, NY 10075) between now and Monday. The DHS administrator will personally pick up gifts and deliver them to children on Christmas Eve.
We need new toys for children under the age of 10, such as toddler toys, dolls, cars, trucks, and board games.
Please wrap the toy (if possible) and label it with a description of the toy, the age, and whether it's for a boy or girl.
Toys may be delivered to Astor House today (Thursday) until 10:00 p.m., tomorrow (Friday) until 6:00 p.m., and Monday, December 23, until 5:00 p.m.
The DHS administrator will pick up the gifts in the morning on December 24.
If you are unable to hand deliver wrapped gifts to Astor House by December 23, Mary Arnold Toy Store near headquarters is happy to take toy orders and deliver them to Astor House for free. You may contact the store directly at 212-744-8510. You can view their inventory on their website.
Thank you for your generosity this holiday season!